Simple Christmas Jam Tarts

Print recipe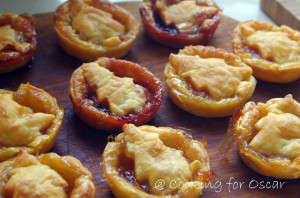 Super easy, fast festive jam tarts.
Ingredients
3 sheets butter puff pastry (or other suitable pastry)
12 tablespoons jam (refer to recipes in notes section)
Optional
Icing sugar (to decorate)
Directions
1.
Preheat the oven to 200°C and prepare two 6-hole muffin pans.
2.
Cut circles of pastry slightly bigger than the size of the muffin holes.
3.
Gently press the pastry circles into the muffin tray holes.
4.
Place a tablespoon of jam in each pastry shell.
5.
Use the left over pastry to cut out Christmas shapes with biscuit cutters to just fit on top of the tart. Christmas trees and stars work well.
6.

Place the shapes on top of the tarts and lightly press into the sides of the pastry shell.

7.

Bake in the oven for 20 - 25 minutes, until golden. Allow to cool in the trays.

8.

Sprinkle with icing sugar before serving (optional).
Note
Low Chemical / FAILSAFE
Any jam can be used for these tarts.  Use pear jam for a low chemical / FAILSAFE version.  There are some jam recipes on the Basics page.