I've been searching for Bircher Muesli recipes for a few weeks now and they all seem pretty simple and very similar – equal quantities of rolled oats and liquid (fruit juice and yoghurt) with optional dried fruits, nuts, seeds and spices, mixed together and left in the fridge overnight.  I had a go myself last night, and we had it this morning, everyone agreed it was pretty good.  I used vanilla yoghurt to make it sweeter for Oscar, but would use natural yoghurt if making it for myself.   Oscar like his warmed up a bit in the microwave.
Bircher Muesli

Print recipe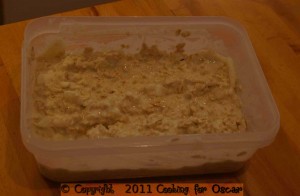 | | |
| --- | --- |
| Serves | 4 |
| Prep time | 8 hours, 10 minutes |
| Allergy / Intolerance | Artificial Addititives, Artificial Colours, Dairy, Glutamates, Preservatives, Salicylates |
| Suitable for | Amines Challenge, RPAH Elimination Diet - Amines Allowed, RPAH Elimination Diet - Moderate Chemical |
| Meal type | Breakfast |
| Misc | Child Friendly, Pre-preparable, Serve Cold, Serve Hot |
Low salicylate creamy bircher muesli.
Ingredients
2 cups Rolled oats
1 cup Natural or vanilla yogurt
1 cup Pear juice ((Refer to basics page))
1/2 cup Dried fruit - Pear, Banana, Paw Paw ((Refer to basics page))
Directions
| | |
| --- | --- |
| 1. | Combine the rolled oats, pear juice, yogurt and dried fruit in a large container and mix well. |
| 2. | Cover and let stand in the fridge overnight. |
| 3. | Serve with fresh fruit, cold or warmed up a bit in the microwave. Add some extra milk if required. |
Note
Moderate Amines, Low Salicylates, Low Glutamates
A note on yogurt: "Fresh yogurt, natural, plain or vanilla" is listed in the 2011 version of the RPAH Elimination Diet Handbook as low chemical.  The previous 2009 version listed "Yogurt" as moderate in Amines.   The definition of "fresh yogurt" in the 2011 version is not clear.  All recipes on this site use the moderate amines rating for yogurt.  If you are using fresh yogurt then the amine level of that ingredient will be low.  There may, however, be other amine ingredients in the recipe.
Variations:
For a less sweet and sugary version, use oat milk instead of pear juice.
Use fresh fruit instead of dried, such as 1 peeled and finely chopped pear (low chemical) or 1 peeled and grated apple (moderate salicylates).
Add a handful of finely chopped cashews (low chemical) or almonds (high salicylates and amines) or a couple of table spoons of almond meal (high salicylates and amines).
Using oat milk or pear juice and soy yogurt will make this recipe dairy free.
Refer to the Basics pages for Pear Juice and Dried Fruit recipes.