Before we found out about Oscar's food intolerances the easiest week night meal was a stir-through pasta, and if we were feeling a bit more energetic we would through in some olives, mushrooms or capsicum.  Tomato-based sauces and pestos are off the menu and none of the cheese-based sauces at the supermarket are suitable either, but pastas are still a pretty easy meal, and this salmon pasta is pretty quick to make as well.  We use the frozen salmon fillets available at the supermarket.
Salmon Pasta

Print recipe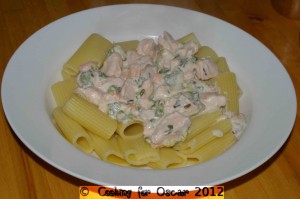 Quick easy week night meal: Salmon Pasta
Ingredients
400g salmon fillets (skin removed, roughly chopped into small pieces)
3-4 spring onions (finely chopped)
1 teaspoon minced garlic
Sunflower oil
1 tablespoon lemon juice substitute (Refer to Basics Page)
handful chives (finely chopped)
150ml light sour cream
400g pasta (any)
To serve: (Optional)
Directions
| | |
| --- | --- |
| 1. | Place the pasta in a saucepan of boiling water to cook. |
| 2. | Fry the spring onions, celery, garlic and chives in a bit of oil until softened. |
| 3. | Add the lemon juice substitute and salmon, and cook until the salmon is cooked through. |
| 4. | Add the sour cream and stir through. |
| 5. | Drain the pasta and place in bowls. |
| 6. | Top the pasta with the salmon. |
| 7. | Grate some cheese over the top to serve (optional). |
Note
Moderate Amines, Low Salicylates, Low Glutamates
Variations: Add 1 cup vegetable sauce at step 4.
Refer to Basics Page for lemon juice substitute.