We are almost out of pear sauce, so I thought I'd try and sneak a few more vegetables into the next batch.  After a bit of research on the Internet it appeared that almost any kind of vegetable could go into chutney, so I decided to include some swede, leek and celery in this one.  The sauce is still very sweet, so next time I'll add a few more vegies; maybe some red or white beans.
Pear and Vegetable Sauce

Print recipe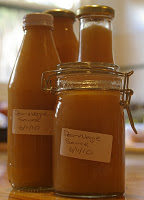 A low salicylate alternative to tomato sauce.
Ingredients
4 410g cans Pear halves in syrup
1/2 cup Brown sugar (firmly packed)
1 1/2 teaspoon Citric Acid
1 teaspoon Salt
1 Small Swede (chopped and cooked - steamed, boiled)
1 Stick Celery (finely chopped)
1 Small Leek (finely sliced)
1 teaspoon Minced garlic
Directions
| | |
| --- | --- |
| 1. | Drain the pears and pour the syrup into a saucepan. Bring it to the boil and boil until the mixture is reduced by half. |
| 2. | Chop the pears. Add the pears and remaining ingredients to the syrup. Reduce the heat and allow to simmer for 15 – 20 minutes, or until thick. |
| 3. | Transfer to a food processor (in batches, if needed) and process until smooth. |
| 4. | Return to the saucepan and simmer for another 5 minutes. |
| 5. | Pour into hot sterilised jars. Once opened store in the fridge. |
Note
Low Chemical / Failsafe, Moderate Salicylates
If moderate salicylates are tolerated, substitute carrot and zucchini for celery and swede.