It's fairy floss that make the cute little "Bunny Tails" on these mini cup cakes.  This isn't a recipe so much as the cup cake is a gluten-free packet I found at Maxi supermarkets.  Why is that gluten-free cake mixes can be made additive free, but not regular ones?  The fairy floss is from Allergy Train and the "Bunny Tails" are put together with a little dark cooking chocolate.  The fairy floss disintegrated over night and the cup cakes were a little bit harder around the edges the next day, so these are best made on the day you want to eat them.  This is Oscar's favourite recipe so far – he also helped with the clean up!
Bunny Tails (Mini Chocolate Fudge Cup Cakes with Fairy Floss)

Print recipe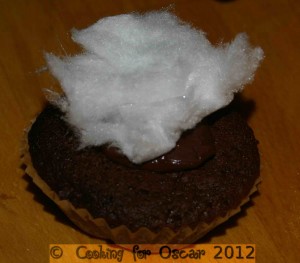 | | |
| --- | --- |
| Serves | 30 |
| Prep time | 45 minutes |
| Cook time | 20 minutes |
| Total time | 1 hours, 5 minutes |
| Allergy / Intolerance | Artificial Addititives, Artificial Colours, Glutamates, Preservatives, Salicylates, Wheat |
| Suitable for | Amines Challenge, Gluten Free, RPAH Elimination Diet - Amines Allowed, RPAH Elimination Diet – Very High Chemical |
| Meal type | Sweet Things |
| Misc | Child Friendly, Pre-preparable, Serve Cold |
| Occasion | Birthday Party, Special Occasions |
Fun birthday party cup cakes that look like bunny tails.
Ingredients
1 packet Melinda's Gluten Free Goodies Heavenly Chocolate Fudge Brownie mix
120g unsalted butter
2 Extra large eggs
1 packet Allergy Train Fairy Floss
15 Pieces/Squares dark cooking chocolate
Directions
| | |
| --- | --- |
| 1. | Preheat the oven to 180 C. Prepare a tray with 30 mini cup cake pans. |
| 2. | Prepare the brownie mix as per the instructions on the packet. Divide the mixture evenly into the cup cake pans (1 large teaspoon per cake pan). |
| 3. | Place in the oven and bake for 18 minutes. Allow to cool. |
| 4. | Melt the cooking chocolate and place a small dollop on top of each cup cake. Pull off a piece of fairy floss and place on top of the chocolate. |
| 5. | Store in an airtight container until ready to eat. |
Note
Very High Amines, Low Salicylate, Low Glutamate, Gluten Free
Notes:
The cup cakes can be made one day in advance, but the fairy floss should be attached as close as possible to serving time.
Bunny Tails can also be made with your favourite chocolate fudge/cake/muffin recipe.
Previous Related Posts: