I enjoy looking for recipes from other countries that I can adapt for Oscar, and I found the original for this recipe on a site that no longer exists (called Ba-Bootie) by Arnold.  I've had a few goes at this tart and think I finally have it right.  The first mistake I made was to not read the recipe through to the end and didn't discover until the last step that I was actually making 2 tarts!  This recipe has been halved. This tart is a bit like a custard tart, but a bit different as well.
South African Crustless Milk Tart (Korslose Melktert)

Print recipe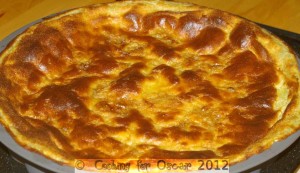 A low salicylate version of the South African Milk Tart.
Ingredients
2 cups milk
2 teaspoons citric acid
1 vanilla bean
1 tablespoon butter
1/2 cup plain white flour (sifted)
1/4 cup caster sugar
pinch salt
3/4 teaspoons baking powder
2 eggs (separated)
1 teaspoon vanilla essence
1 teaspoon brown sugar
Extra butter (for greasing)
1/3 cup crushed plain sweet biscuits or puffed rice cereal
Directions
| | |
| --- | --- |
| 1. | Preheat the oven to 190 C and grease a 22cm pie/tart dish with butter. |
| 2. | Heat the milk, vanilla bean and butter to boiling point, remove from the heat and leave it to stand for 20 minutes. |
| 3. | Mix the flour, sugar, salt and baking powder together. |
| 4. | Whisk the egg yolks. Strain the milk mixture and add to the beaten egg yolks. |
| 5. | Whisk the milk mixture into the flour mixture. Add the vanilla essence and citric acid. |
| 6. | Place the mixture back on the heat and bring to boiling point again. Stir this mixture continuously until it has boiled. |
| 7. | Sprinkle the crushed biscuits or cereal into the bottom of the pie dish. |
| 8. | Whisk the egg whites until they are stiff. Whisk the tart mixture to remove any lumps that might have formed then fold the egg whites into the mixture. |
| 9. | Pour the tart mixture into the pie dish. Sprinkle the top with the brown sugar. Bake for 30 minutes then switch off the oven and let the tart cool off in the hot oven for a further 15 minutes. |
| 10. | Serve the tart hot or at room temperature. |
Note
Low Chemical / Failsafe
Variations:
If salicylates are not a problem:
Step 2 – replace the vanilla bean with 1/4 stick cinnamon and the zest from 1/4 lemon.
Step 5 – replace the citric acid and vanilla essence with 1.5ml almond essence
Step 9 – sprinkle the top with 5ml fine cinnamon instead of brown sugar