This is the last of my practice runs for Oscar's birthday party – the birthday cake.  Given that there is going to be a lot of chocolate party food I decided to make a vanilla cake, and as natural food colours are out (
experiment #1
) I have a bought a Thomas and Friends cake topper, which consists of a cardboard carnival back drop and a couple of plastic trains.  All I need to do is draw on some tracks with chocolate icing.
The cake recipe is from Kidspot and is super moist.  It kept very well for 3 days in an airtight container, which is perfect for a birthday cake, as I can start it a couple of days before.  The buttermilk gives it a delicious flavour.  I made a large rectangular cake using a double quantity of the original recipe, so if you don't want a cake this big, just halve the ingredients.
I had planned to ice the cake with butter icing, but my beaters died just as I was finishing up the cake (they have never worked so hard in their lives as they have recently!)  As I'm writing this I have bid on Grays Online for a nice new one.  So instead of butter icing I just dusted it with icing sugar instead, although Oscar did make me draw a chocolate spider in one corner!
Oscar's verdict: Delicious!
Vanilla Birthday Cake
Large Vanilla Cake

Print recipe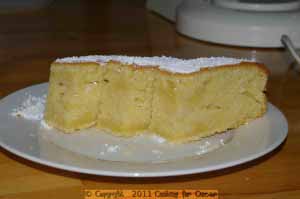 Ingredients
500g butter (softened)
500g caster sugar
6 Eggs
2 tablespoons vanilla extract
3 teaspoons baking powder
580g plain white flour
1 1/2 cup buttermilk
To decorate (Optional)
Directions
1.
Preheat the oven to 180 C and grease and line a large baking tray (e.g. a roasting tray).
2.
Beat the butter and sugar until pale and creamy. Add the eggs one at a time, beating well after each egg goes in. Add the vanilla and mix in.
3.
Sift together the flour and baking powder and gradually add to the cake mixture, beating well.
4.
Add the buttermilk a little at a time until you have a thick creamy batter.
5.
Scrape the batter into prepared tray and bake for 45 minutes or until a skewer poked in the centre comes out clean.
6.

Allow to cool slightly in the pan, then lift out and remove the baking paper. Cool completely on a wire rack before icing.
Optional: dust with sifted icing sugar to decorate.

7.
Store in an airtight container.
Note
This recipe can be halved to make a smaller cake.
Low chemical / Failsafe
Previous Related Posts:
Birthday Party Project #1
Birthday Party Project #2
Birthday Party Project #3
The Birthday Part Project #4