I used to make these chicken pancakes on a quite regular basis but had forgotten all about them since the recipe had mushrooms in it.  It is from a book called "50 Ways with Chicken" by Rosemary Wadey.  With a few small changes it was Oscar friendly – and he ate it!
Chicken Pancakes
Chicken Pancakes

Print recipe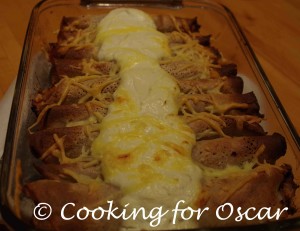 | | |
| --- | --- |
| Serves | 4 |
| Prep time | 50 minutes |
| Cook time | 25 minutes |
| Total time | 1 hours, 15 minutes |
| Allergy / Intolerance | Amines, Artificial Addititives, Artificial Colours, Egg, Glutamates, Preservatives, Salicylates, Wheat |
| Suitable for | Amines Challenge, Gluten Free, RPAH Elimination Diet - Amines Allowed, RPAH Elimination Diet - High Chemical, RPAH Elimination Diet - Low Chemical / Failsafe, RPAH Elimination Diet - Moderate Chemical, Salicylate Challenge, Salicylates & Amines |
| Meal type | Main Dish |
| Misc | Serve Cold, Serve Hot |
Easy vegetable and chicken filled pancakes.
Ingredients
1 cup plain white or wholemeal flour (see note for gluten-free option)
Salt
2 eggs (lightly beaten)
1 1/4 cup milk
2 tablespoons water
Sunflower oil
2 tablespoons butter or Nuttelex
400g chicken fillets (diced)
1 clove garlic (crushed)
2 Small leeks (finely chopped)
3/4 cups light smooth ricotta (or sour cream or natural yoghurt, if amines are tolerated)
1 teaspoon wheaten cornflour (or tapioca starch for gluten-free)
Canola oil spray
For the filling (mod salicylates): (Optional)
1 Large carrot (peeled and finely chopped)
For the topping (amines): (Optional)
Directions
1.
Preheat the oven to 200°C and lightly grease a baking dish.
To make the pancake batter:
2.
Sift the flour and a pinch of salt into a bowl. Make a well in the centre and add the eggs. Add a little bit of milk and beat until smooth, then mix in the rest of the milk. Set aside.
To make the filling:
3.
Heat the butter in a pan, add the chicken and garlic and saute for about 5 minutes. Add the carrot (if using) and leeks and cook for another 10 minutes, stirring frequently. Blend 4 tablespoons of the ricotta (or yogurt or sour cream) with the cornflour and stir into the pan with a bit of salt. Bring to the boil and simmer for 2 to 3 minutes. If using ricotta add about 2 tablespoons of water to make a thinner consistency.
To make the pancakes:
4.
Lightly grease a 20 cm frying pan. Pour in a 1/4 cup of batter and spread over the base. Cook until lightly browned then turn over and cook the other side. Turn onto a plate and make 8 more pancakes.
To put it all together:
5.

Divide the filling across the pancakes and roll each one up. Place the pancakes into the greased baking pan. Spoon the rest of the yoghurt , sour cream or ricotta down the centre of the pancakes, then sprinkle/dot with cheese (if using).

6.
Bake for 20-25 minutes until the pancakes start to turn brown and crispy on the edges.
7.
Serve with vegetables or a salad.
Note
Low/Moderate Salicylate,  Low/HighAmines, Low Glutamates, Gluten-free
For a gluten-free version make buckwheat crepes instead of wheat flour ones and use tapioca starch instead of wheaten cornflour.
Both the filling and pancake batter can be made in advance and stored in the fridge until needed.  The pancakes can also be made ahead of time.
Leftover pancakes can be stored in the fridge and make a great snack or lunch either cold or wrapped in foil and reheated in the oven.