Oscar's 3rd birthday party is tomorrow and I have spent the last 2 days shopping for and preparing the party food.  Its a train themed party with a Thomas and Friends birthday cake.  Almost all the party food has had to be home made, including the cake.  Since I couldn't use natural food colourings for the decorations, I bought a
Thomas and Friends cake topper set
, and used some Smarties, Allergy Train honeycomb and a couple of plastic toy trees as additional decorations.  I made the cake yesterday, iced it this afternoon, then decorated it tonight after Oscar went to bed.
Thomas and Friends Carnival Birthday Cake
The lolly bags are also Thomas themed and contain:
Mini Smarties box
Mini Milk Way bar
Darrell Lea white jelly beans (contain orange oil)
Allergy Train white musk sticks
Allergy Train pear lollipops
Black and Gold milk bottles
Menz chocy milk bottles
Fabulous Fudge Facotry dairy free fudge
Balloon
Thomas and Friends Lolly Bags
More about the party tomorrow, or Monday if I'm too exhausted!
Thomas and Friends Cake

Print recipe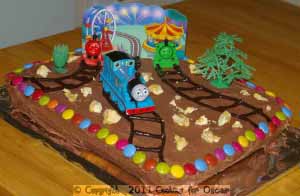 Ingredients
1 cake board or tray
1 Vanilla Cake (Refer to recipe in notes section)
1 Thomas and Friends Carnival Cake Decorating Kit (Refer to link in notes section)
For the icing:
250g butter (softened)
4 cups pure icing sugar
1/2 cup cocoa or carob
1/4 cup milk
For the tracks:
1/2 cup pure icing sugar
1/2 cup cocoa or carob (Use carob for a low chemical / failsafe version)
Water
To decorate:
Honeycomb (broken into pieces)
Plastic toy trees
To decorate: (Optional)
Lollies (to decorate edge)
Directions
1.
Place the cake onto the cake board or tray.
For the icing:
2.
Cream the butter until pale and fluffy. Sift together the icing and cocoa/carob and slowly add to the butter. Add the milk 1 tablespoon at a time until you get a good spreadable consistency. Spread over the cake with a spatula or knife.
To decorate:
3.
Sift the icing sugar and cocoa/carob together then add enough water to get a pipable consistency. Pour into a piping bag (I use a sauce bottle).
4.
Position the carnival background and the Percy and James train faces on the cake. Pipe the train tracks onto the cake coming out of the carnival scene and from Percy and James. Place Thomas onto the centre track. Place the trees on the cake and sprinkle the honeycomb around the tracks.
Optional:
5.
Decorate the edges of the cake with allowed lollies.
Note
Low Chemical / Failsafe, Very High Amines
Use Carob for a low chemical / failsafe version.
Thomas and Friends Cake Topper