Once again, my local Maxi supermarket has thrown up something new – fresh stuffed pastas that have no artifiicial preservatives, colours or flavours.  They are not low chemical, but the bulk of the ingredients are OK for Oscar and he can probably tolerate the small amounts of the other ingredients.  I can't tell you that for certain as Oscar has refused to eat them.  He asks to have "fresh pastas" for dinner then asks for tube pastas for himself!
The manufacturer is Mimas Foods, and the two varieties we have tried are:
Ravioli Beef: durum wheat semolina, eggs, lean beef (21%), parmesan cheese, breadcrumb, celery, carrots, onions, herbs and spices, water.  The potential problem ingredients for Oscar are the very high salicylates in the onions, herbs and spices.  Parmesan contains very high Amines and Glutamates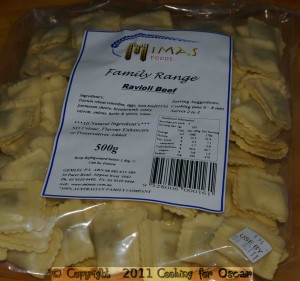 Agnolotti Chicken & Mushroom:  durum wheat semolina, chicken (26%), eggs, breadcrumbs, mushrooms, parmesan cheese, herbs and spices, water.  There are very high salicylates in the mushrooms, herbs and spices.  Mushrooms are also contain glutamates.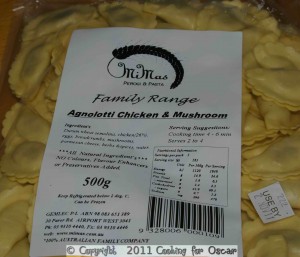 Given that these pastas already contain a lot of flavour, a very simple sauce was required.  So I have been using this Creamy Garlic pasta sauce, made using either sour cream (amines) or cream cheese (low chemical).
Creamy Garlic Pasta Sauce

Print recipe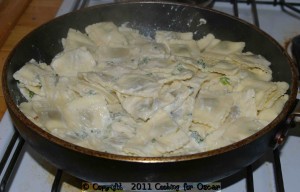 A quick low chemical / failsafe pasta sauce.
Ingredients
1/2 Small leek
clove garlic
1 Stick celery
1 heaped teaspoon butter or Nuttelex
1 cup light sour cream or cream cheese
Salt
1 Small bunch parsley (finely chopped)
Directions
| | |
| --- | --- |
| 1. | Melt the butter/Nuttelex in a frying pan and add the leek, garlic and celery. Cook for 2 to 3 minutes, until soft. |
| 2. | Add the sour cream/cream cheese and reduce the heat to low, simmer for 2 to 3 minutes. |
| 3. | Stir through the parsley and season with salt. |
| 4. | Stir through cooked pasta and serve immediately. |
Note
Low Chemical / Failsafe