The idea for this recipe is from the Uncle Toby's Cholesterol Challenge website, but it was made with just oats.  This version combines a variety of cereals, and Oscar just loves them.   They store well, so are great for taking to day care.
Cereal Bars

Print recipe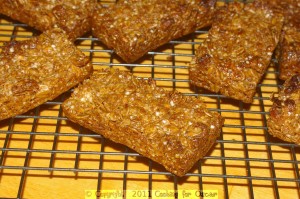 Cereal bars, made with oats, millet rings, rice bubbles, special K and quinoa flakes.
Ingredients
100g Unsalted Butter
1/2 cup Brown sugar (firmly packed)
1/4 cup Golden Syrup
1 cup Rolled oats
2/3 cups Millet rings
2/3 cups Rice Bubbles
2/3 cups Special K
2/3 cups Quinoa flakes
Directions
1.
Prepare a 20cm square tin by lining with foil or use silicon mini loaf trays (2 x 6-holes). Preheat the oven to 180 C.
2.
Place the butter, sugar and golden syrup in a medium saucepan. Heat gently until the sugar has melted.
3.
Remove from the heat and stir in the remaining ingredients.
4.

Pour the mixture into the prepared tin or silicon trays and level the surface. Bake for 20 to 25 minutes, or until brown.

5.

Leave to cool for 10 minutes. If using a cake tin, lift out and cut into 10 to 12 bars and place on wire rack to cool. If using silicon trays, turn out onto a wire rack to cool.

6.

Once completely cool, store in an airtight container for up to 4 weeks.
Note
Low Chemical / Failsafe
Variations:
Use Rice Malt Syrup instead of Golden Syrup for a slightly different flavour.
Use any combination of cereals and in any quantities, as long as the total quantity adds up to 3 2/3 cups.