Christmas is not far away, and as we are hosting it this year, there is a bit of preparation work to do.  One of my priorities with Oscar's food is that when he is at home he should be able to eat the same food as everyone else.  That's not to say that there isn't food being eaten that he can't have, but most of it he can.  So with that in mind, Christmas lunch will be mostly Oscar-friendly.  There will be elements of every course that he can eat, which we will provide, and then the family can bring other desserts and salads without having to make it OK for Oscar.  Its more work for us, but a lot can be prepared or partially prepared early.  I'm not a big fan of the "roast dinner on a hot summer's day" Christmas lunch, BBQ, cold meat and salads are more my thing, so here's what we have on our menu so far:
To start with we have a few nibbles, for the early arrivals and while we're waiting for everyone to turn up.  Not a lot, just a few dips and some rice crackers and biscuits.
The preservative-free ham and failsafe sausages are from our local Failsafe butcher Ozzie's Gourmet Butchery.  The chicken will be either hot or cold (cooked the day before) depending on the weather forecast.  The seafood BBQ will be similar to last year – salmon and scallops.
The potato and bean salad will be made with eggless mayonnaise, potatoes, bean mix and bit of parsely.
The chocolate cashew cheese cake will be based on Nigella's Chocolate peanut butter cheese cake, which I saw her cook during the week.  Swapping the peanuts for cashews.
And of course, there will be my Christmas Cake.  This cake has already been eaten, I only managed to let it age for 1 day before having to try it.  And it was good, in fact it hardly tasted any different to regular Christmas cake.  But I have made a second one, and it's all wrapped up and maturing and being given little drinks of pear syrup to keep it moist.  Given the erratic temperatures during December in Melbourne, I'm keeping it in the fridge.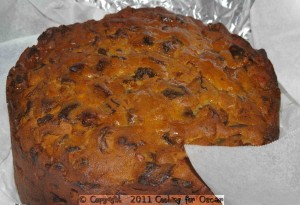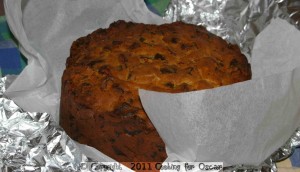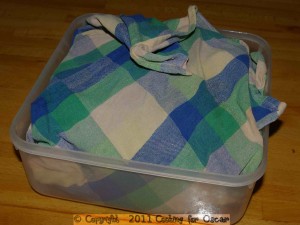 I've been trying to work out how to decorate this cake and came across a couple of interesting ideas:
Cashew Marzipan.  It's not technically marzipan since marzipan is made from almonds, but this version is low chemical as its made from cashews and I'm not a big fan of almond marzipan anyway, so this sounds nicer.  I haven't tried this yet, but will be trying this recipe a week before Christmas with no food colouring and vanilla essence instead of almond.  I'll be following these instructions (pear jam instead of apricot) to apply the marzipan and if I have time, or completely stuff up the marzipan, I'll be using the Royal Icing recipe as well.
Maple Syrup Candy.  I came across the concept of maple syrup candy, which is made from pure maple syrup and sounded yummy and easy.  I thought I could make some using chocolate moulds and put them on top of and around the iced cake.  Unfortunately it wasn't so easy.
The first recipe  required a lot of arm work (stirring) and resulted in a very yummy, but crumbly candy.  It was like eating a ball of maple syrup flavoured brown sugar, and it didn't keep its shape – so no good for the cake.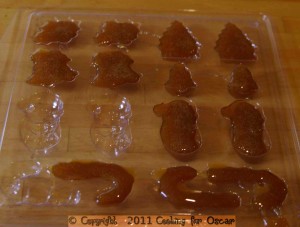 The second recipe was for hard maple syrup candy and no stirring was required.  The maple syrup burnt before it go to the hard crack temperature and while it did set hard and came out of the moulds beautifully, but tasted dreadful.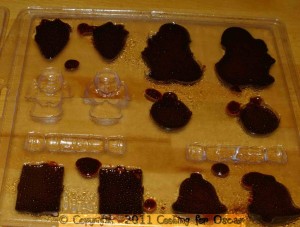 So I think my cake will just be iced and decorated very simply, with these: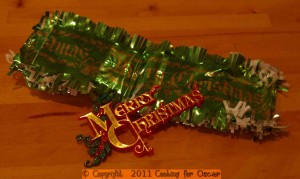 Credits: Music from The Spirit of Christmas 2009 CD, Christmas Time, Kasey Chambers, Poppa Bill and The Little Hillbillies.