Making mayonnaise is not one of my strong suits and the ones I've tried out of the Failsafe cookbook have been too sweet for my liking.  Finally I've found a very easy, eggless mayonnaise recipe, which adapted well to a few changes.  Combined with some left over  chicken and vegetables, a can of beans and some pasta, it was great in this pasta salad.  This is also the first salad Oscar has eaten.  He loved the mayonnaise and has since had it with other meals.  We also exploited that fascination that little boys have with bodily functions by telling him that if he ate the beans he would do "smelly pops".  It worked, he has even asked us to add some "smelly pop beans" to other dinners!
Egg-free Mayonnaise

Print recipe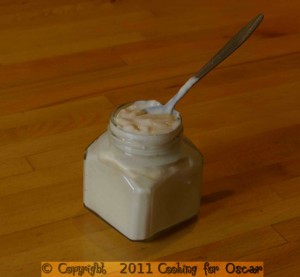 Easy egg-free mayonnaise.
Ingredients
1/2 cup light evaporated milk
1/2 cup sunflower oil
2 teaspoons rice malt syrup
1 - 2 tablespoon lemon juice substitute (Refer to basics page)
Salt
Directions
1.
Pour the evaporated milk into a food processor and start to whiz. Add the oil 2 tablespoons at a time.
2.
Once all the oil has been added, add the remaining ingredients. Adjust the amount of lemon juice substitute to taste.
3.
Process at high speed for a couple of minutes until thick.
4.

Store in the fridge. It will last for at least a week.
Note
Low chemical / failsafe
Lemon juice substitute recipe.
If salicylates aren't a problem use lemon juice and honey instead of the lemon juice substitute and rice malt syrup.
Chicken and Risoni Salad

Print recipe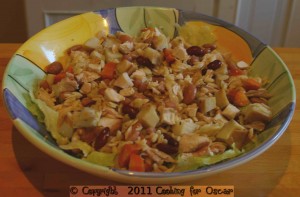 | | |
| --- | --- |
| Serves | 4-6 |
| Prep time | 40 minutes |
| Cook time | 10 minutes |
| Total time | 50 minutes |
| Allergy / Intolerance | Amines, Artificial Addititives, Artificial Colours, Egg, Glutamates, Preservatives, Salicylates |
| Suitable for | RPAH Elimination Diet - Low Chemical / Failsafe, RPAH Elimination Diet - Moderate Chemical, Salicylate Challenge |
| Meal type | Lunch, Main Dish, Salad, Side Dish |
| Misc | Child Friendly, Pre-preparable, Serve Cold |
Easy pasta and chicken salad.
Ingredients
1/2 cup Risoni pasta
1 1/3 cup cooked potato
1 1/2 cup Cooked chicken (diced)
1 1/2 tablespoon Mayonnaise (Refer to basics page)
1 x 240g can Bean mix (drained and rinsed)
iceberg lettuce leaves (washed)
Optional
1/2 cup cooked carrot (diced)
Directions
| | |
| --- | --- |
| 1. | Cook the pasta to al dente then drain, rinse and place in the fridge to cool. |
| 2. | Once the pasta has cooled, combine with the potato, carrot (if using) chicken and bean mix. |
| 3. | Line a large bowl with lettuce leaves and pour the salad into the bowl. |
| 4. | Drizzle the mayonnaise over the top and lightly toss through. |
| 5. | Serve, or store in the fridge until ready to eat. |
Note
Low chemical / Failsafe without the carrot.  Moderate salicylates with the carrot.
Click here for mayonnaise recipe.
Quantities of chicken, carrot and potato were what I had on hand, but can varied.  Risoni is a very small pasta that looks a bit like a big piece of rice, but you could use any type of pasta for this recipe.