I've never decorated a cake with anything more fancy than butter icing before, so I'm not sure why I'm tempting fate decorating Oscar's Christmas Cake, but I am!  The first step is the Marzipan.  I'm not a fan of almond marzipan, but while researching options I came across some recipes for cashew marzipan, which seems to be popular in India.   I also watched several videos about how to make marzipan, the most useful being this one from Confection Perfection.  I'll write a post about decorating the cake a bit later, but I think I did a pretty good, although a bit rough, job for my first attempt.
Cashew Mazipan

Print recipe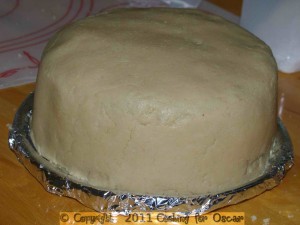 Cashew marzipan, an alternative to traditional almond marzipan.
Ingredients
500g raw cashews
500g pure icing sugar
1 teaspoon vanilla essence
3 egg white
Directions
| | | |
| --- | --- | --- |
| 1. | Using a food processor, grind the cashews to make a fine powder. Stop grinding if the powder starts to become oily. | |
| 2. | Put the cashews and icing sugar into a large mixing bowl and mix to combine. | |
| 3. | Combine the egg whites and vanilla essence and beat lightly. Make a well in the centre of the cashew mixture and add the egg whites. Mix until the dough starts to come together. If it is not firm enough add a bit more icing sugar. | |
| 4. | Pour the dough onto a clean surface and knead until you have a firm smooth dough. | |
| 5. | Wrap in cling film and store in the fridge or freezer until ready to use. Can be made 2 days ahead and stored in the fridge, or store in the freezer for longer. | |
Note
Low Chemical / Failsafe
Makes more than enough marzipan to cover a 20cm cake, depending on how thick you like it.
So my cake is now drying out, although given the temperatures in Melbourne at the moment I only left it out uncovered for 2 days and have now put it into an airtight container in the fridge until I do the Royal Icing part.