Yesterday I went to a product launch for Golden Circle's new probiotic fruit juice – Healthy Life™ Fruit Juice with Probiotic Cultures.  The product launch was arranged by Spark Communications and I found out about it through Nuffnang.  This is fruit juice that contains probiotics for the immune system, and is being targeted at busy women who can't afford to get sick (although men and children can also drink it).  When we feel like we have a cold or something coming on we generally try and load up on vitamin C and juice is the most common way to do that.  So Golden Circle figured why not add something extra to help the immune system.
I'm not writing about this because I went to the product launch and got some free samples to take home (along with a nice goodie bag!), or because it is Oscar friendly (more on that later).  This juice actually appealed to me.  I gave up drinking juice almost 2 years ago when I started the elimination diet with Oscar.  Even after I stopped breast feeding and could eat whatever I wanted, our diet has typically been much the same as Oscar's.  We don't have a lot of food in the house that he can't have (alcohol, tea, coffee and hubby's breakfast cereal are the main things).  But lately I have been missing juice and thinking about making it part of our diet again.  The idea of being able to get probiotics as well without it being dairy based (I'm trying to cut down on that) was appealing.
I'd like to let Oscar drink juice as well.  At the moment what he thinks is "pear juice" is actually the syrup from pears in syrup – more like cordial really.  He has tried the Santa Vittoria pear nectar (high salicylates) diluted with water and that has been fine.  I've also noticed that our local Maxi supermarket has pear juice that is 100% pears (high salicylates).  The only thing is it comes in a 2 litre bottle and has to be consumed within 5 days of opening.  That's a lot of juice to drink!  Maybe I could freeze some of it?  I also unsuccessfully tried to use my food processor to make juice for him.  It comes with a citrus juicer (which works well – I juiced oranges for my Dad) and a juicer for other fruit and vegetables.  After 5 minutes of juicing a carrot all I had was half a teaspoon of carrot juice, some manky looking carrot and a sore hand from pushing it down!  I really need our new bigger kitchen (and the house it comes with) before I before I buy a juicer and add to my appliance collection.
The Helathy Life Fruit Juice comes in two varieties – Breakfast Juice (reconstituted orange, cloudy apple and pineapple juices, passion fruit juice, banana puree, natural flavours, citric acid, vitamin C and the probiotics) and Apple Mango (cloudy apple juice, mango puree, vitamin C, natural flavour and the probiotics).   The Breakfast Juice has no artificial flours, colours or preservatives and no added sugar.  The Apple Mango has no artificial colours or flavours and no added sugar.  Apparently Golden Circle don't add any preservatives to the juice but the probiotics may have some which is why the label on the Apple Mango doesn't say no preservatives.  I have asked for details on what the "natural flavours" are in the Apple Mango.   If they are OK, I might try some of this (very high salicylates and amines) on him as well, although diluted a bit.
If you're interested, here are some details on the Healthy Life™ Fruit Juice with Probiotic Cultures, which goes on sale on Monday:
And here are some pictures of the view from Eureka 89, where the launch was held: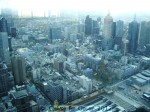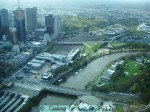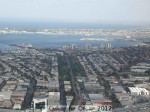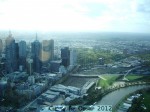 [gplusbutton]