Breakfast is probably the most boring meal of the day in our house, especially week days when we have exactly the same thing each day.  For Oscar it's porridge with maple syrup and banana or pear – he loves it (thankfully!).  So every now and then on the weekend we try something different.  The fluffy pancakes are a Jamie Oliver recipe that I saw on TV and he made them with pear, so I had to give them a go.  They can also be made with any other fruit, so are a good for food challenges and re-introduction.  The crumpets recipe was sent to me by one of my readers, Kim, and it took me ages to find the time to try them out, but when I did they were great.  They actually look a bit like english muffins, but muffins  are made with milk and eggs, but once cut in half these look more like what we know of as crumpets only they taste much better.
Fluffy Breakfast Pancakes

Print recipe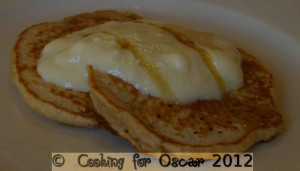 Fluffy breakfast pancakes filled with fruit.
Ingredients
1 cup Wholemeal self raising flour (sifted, with the husks added back in)
1 cup Milk
1 Egg
pinch Sea salt
1 Pear (peeled)
Butter
To serve:
Maple syrup or rice malt syrup
To serve: (Optional)
Natural or vanilla yogurt (amines)
Light smooth ricotta
Directions
| | |
| --- | --- |
| 1. | Add the flour milk, egg and salt in a mixing bowl and whisk until smooth. |
| 2. | Grate the pear and stir into the batter. |
| 3. | Heat a large frying pan over medium heat. Melt a knob of butter in the pan then add the batter a spoonful at a time. You should be able to cook about 3 at once. |
| 4. | Cook for a few minutes until they are golden on the bottom. Flip over and cook for a few minutes on the other side. |
| 5. | Serve straight away with a dollop of yoghurt/ricotta and syrup drizzled over the top. |
Note
Low Chemical / Failsafe
Makes 10 pancakes
Variations: fill the pancakes with any fruit of choice in place of the pear
Crumpets

Print recipe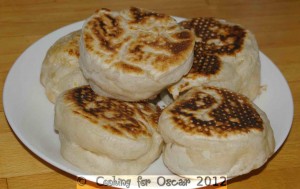 | | |
| --- | --- |
| Serves | 4-8 |
| Prep time | 1 hour, 10 minutes |
| Cook time | 20 minutes |
| Total time | 1 hour, 30 minutes |
| Allergy / Intolerance | Amines, Artificial Addititives, Artificial Colours, Dairy, Glutamates, Preservatives, Salicylates |
| Suitable for | Dairy / Lactose Free, RPAH Elimination Diet - Low Chemical / Failsafe |
| Meal type | Breakfast, Savoury Snack, Sweet Things |
| Misc | Child Friendly, Pre-preparable, Serve Hot |
| By author | Kim (reader) |
Easy, delicious, home made crumpets.
Ingredients
1 teaspoon Lowan's Dried Instant Yeast
300ml warm water (body temperature warmth)
1 cup plain white flour
1 teaspoon salt
canola oil spray
2/3 cups plain wholemeal flour
Directions
1.

In a small bowl, combine the yeast and 50ml of the water. Stir until the yeast is dissolved, then let stand in a warm place for 5 minutes.

2.

In a large bowl, sift the flour and salt together. Add the rest of the water to the flour and mix, then add the yeast mixture. Stir until well combined.

3.

Cover the bowl with a clean tea towel, then leave in a warm place to rise until it doubles in size (about 1 hour).

4.
The mixture should be thick, but pliable enough to be able to scoop into the egg rings. Add more water if it's too thick, more flour if it's too runny.
5.

Heat a frying pan and lightly spray with oil. Lightly spray the egg rings. Half fill the rings with the dough and cook until the top starts to appear translucent and there are holes in the top (about 4 minutes).

6.

Remove the egg rings and turn over the crumpets. Cook for another minute until the top is brown. Repeat for the remaining crumpets.

7.

Serve warm, cut in half with your favourite spread.

8.

To reheat cold crumpets, cut them in half and toast in a toaster or under the grill.
Note
Low Chemical
Makes 8 crumpets.