After having bought a Le Creuset cast iron casserole dish recently I thought I had better try it out.  My Mum made a great chicken casserole a while ago which I shared here but have never got round to making myself, so I thought I'd kill two birds with one stone.
One Pot Chicken Casserole

Print recipe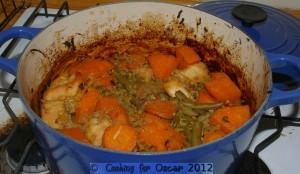 One pot chicken casserole.
Ingredients
2 sticks celery (finely chopped)
1 Large leek (finely chopped)
2 teaspoons minced garlic
1 tablespoon rice bran oil
600g skinless chicken fillets (chopped into chunks)
2 tablespoons flour
1/2 teaspoon salt
2 Medium carrots (chopped)
1 Small sweet potato (peeled and chopped)
1/2 cup frozen peas
1 cup frozen beans
1 pinch salt
2 cups water
Directions
1.
Preheat the oven to 180°C.
2.
In a large cast iron casserole dish heat the rice bran oil over medium heat and fry the celery, leek and garlic until soft.
3.
Meanwhile, put the flour and 1/2 teaspoon of salt into a plastic bag. Add the chicken and shake to coat.
4.
Add the chicken to the casserole dish and cook until it starts to brown.
5.
Add the carrot, sweet potato, beans, peas, water and a pinch of salt to the casserole dish.
6.
Cook in the oven with the lid on for 2 hours.
7.

Serve with rice or mashed potato.
Note
Amines, Moderate Salicylates, Moderate Glutamates
Browning meat and cooking for long periods of time increases the level of amines.  If Amines aren't tolerated cook this casserole uncovered on the stove top without browning the meat first.
Coming Up Next Time: Coffee Cake / Cupcakes and Maple Butter Cream Icing