One of the foods that Oscar really loved in Japan was pork cutlets.  In fact it was the first time we've been able to get him to eat pork, so of course I had to find out how to make them.  They are quite smple really, just meat coated in bread crumbs and deep fried.  I don't like deep frying, so I shallow fried instead and they cooked just as well.  The Japanese recipes (I modified one from La Fuji Mama) use Panko, which is a type of breadcrumb made from bread that is cooked using an electric current (not sure exactly what that means!).  They are more like flakes than crumbs, and can be bought in asian grocery stores.  Not knowing what was really in them I decide to use normal bread crumbs, and they worked just fine.  For the sauce I used Failsafe Foodie's Magic Sauce, which was an excellent substitute for the sauce in the original recipe.
Pork does contain amines, so this recipe is not suitable for the strict Failsafe or Elimination diets, but you can use it for an amines challenges, or if amines are tolerated.  The pork can also be substituted for chicken fillets or a mince meat patty, like a croquette.
Japanese Breaded Pork Cutlets (Miso Katsu)

Print recipe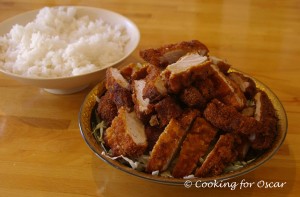 Easy Japanese breaded pork cutlets.
Ingredients
8 pork medallions (boneless chops, 1-2 inch thick)
Salt (to season)
2 tablespoons plain white flour
2 Large eggs
4 teaspoons water
2 cups home made bread crumbs (Refer to recipe)
Rice bran oil (for frying)
For serving:
3 cups green cabbage (finely shredded)
2 cups uncooked rice
Failsafe Foodie's Magic sauce (Refer to recipe)
Directions
| | |
| --- | --- |
| 1. | Beat the eggs with the cold water in a bowl large enough to dip the pork medallions. Set aside |
| 2. | Lay each piece of pork between two sheets of plastic wrap and use the flat side of a meat tenderiser to flatten it to about 8mm thick. Season both sides with salt and set aside. |
| 3. | Heat 1.5cm of oil in a large frying pan or wok until it reaches 190°C. |
| 4. | While the oil is heating lightly dust each piece of pork with the flour, then dip into the egg wash and then coat well with the bread crumbs. |
| 5. | Fry the chops two at a time for about three minutes, then turn over and fry for another 3 to 4 minutes, until they are golden brown. Drain on a wire rack and repeat with the remaining chops. The chops can be kept warm by placing them in a low (80°C) oven while the remaining chops are cooked. |
| 6. | While the chops are cooking, cook the rice. |
| 7. | To serve, slice the cutlets into 1 cm strips. Place the cabbage on the bottom of a large serving bowl and lay the cutlets on top and drizzle with Failsafe Foodie's Magic Sauce. Serve with the rice. |
Note
Low Salicylates, Low Glutamates, High Amines
Leftovers taste great cold the next day.
The word "Katsu" refers to any deep-fried meat cutlet coated with flour, egg, and bread crumbs.  I haven't tried making these variations yet, but the same method and ingredients can be used to make:
Chicken katsu, which uses chicken fillets instead of pork.
Menchi katsu, which is a minced meat patty, breaded and deep fried.
Refer here for the recipes for Bread Crumbs and Failsafe Foodie's Magic Sauce.