We arrived home on the weekend after two weeks holiday in Japan.  Japan was a fantastic country to travel in (very easy despite the language difference) and the food was delicious.  Our first few days there we stayed with an old friend of mine and got to have home cooked Japanese food – and lots of it!  We also got to visit a supermarket.  The supermarket was huge and so were the vegetables – spring onions the size of small leeks and enormous apples (apparently Australia grows big ones for Japan and leaves the small ones for us).  Food prices weren't terribly different to here.  Milk was $1/litre, but I don't know if their farmers are being screwed on prices.  The other amazing thing about Japanese food is that you can get almost anything in a can – coffee, tea with milk, all sorts of alcoholic drinks – and you can by them from vending machines on the foot path!
Oscar went surprisingly well in terms of food reactions.  While he didn't eat a full-on Japanese diet each day, he did have enough each day for us to expect more of a reaction.  On the second last day Oscar developed a rash on his chin and above his top lip.  It has slowly built up and he has little red itchy patches in various places over his body now, but they are settling down and the patch on his chin and lips has gone all dry, cracked and scaly.
We took some food with us, both for the trip over (15 hours from home to hotel) and as snacks while travelling.  We headed off at 4.30am when we lifted Oscar out of bed and put him in the car, with a drink of warm milk to help soften the blow.  The first part of the trip was a domestic flight, so I could take a little container of milk (150ml) through security and a bowl of cereal for his breakfast.  The flight included 2 meals (we flew Jetstar and didn't order a meal for Oscar), so I packed some cold cooked sausage rolls and ham, zucchini and carrot muffins for lunch and dinner.  As snacks I packed two 100ml yogurt squueezy packs (frozen which helped to keep the other foods cool), some drained pears in syrup, plain Arnotts biscuits, rice crackers, muesli bars (NoNos Cocoa Crush Bars), two 100ml Aunt Betty Creamy Rice tins and some lollies .  As we were travelling on an international flight we had to comply with the security limitation on liquids, aerosols and gels.  Each person is allowed a 20 x 20cm zip lock bag containing as many 100ml or less containers that can comfortably fit.  Medicines are exempt, and we had a letter from our doctor, but we still used one of our bags for essential medicines for Oscar (ventolin, Prednisolone and steroid creams).  In the two remaining bags I packed the yogurts, creamy rice and a couple of small ice gel packs to keep everything cool.  We packed more of the same in our suitcase, plus some pear jam and a box of Special K and some porridge sachets (we knew at least one of our hotels had a microwave).  The only foods that needed to be declared in Japan were fresh plant and animal products, meat products and rice.  The left over muffins and sausage rolls went into the bin at the airport (they had served their purpose well) and I declared my four 100ml tins of creamy rice, but we weren't even stopped.
Most of what Oscar ate fell into the "probably OK" category.  Foods such as pancakes, rice, noodles, vanilla yogurt, fried/crumbed chicken/pork, french fries, vegetable/chicken filled sushi rolls  and bread were his staples; they should be OK but without knowing the ingredients there would probably be something in them that wasn't – preservatives, colours, flavours, etc.
We took food with us whenever we could – jam and banana sandwiches/rolls were popular – even to Disney Land (which, by the way, was awesome).  But there were times when there weren't any "good" options and we had to make do, like the day we visited the Railway Museum.  The safest option was the kids meal with crumbed prawn and other things (chicken or pork), rice with tomato sauce (which we scrapped off) and a horrible looking hamburger.  Oscar ate the crumbed pieces, was very particular about not eating any grains of rice with tomato sauce on them, and to our surprise loved the hamburger and scoffed it down really quickly.  We swapped the orange juice for a "melon flavoured soft drink" – I'm not sure if that was better or not :), and there was a pear tasting jelly.  Luckily these situations were not frequent and we managed to keep him pretty stable.
There were also some surprises, such as in the town of Kawagoe, where we stopped for an ice cream.  The choice was yellow or purple – we chose yellow.  Turns out they were both sweet potato icecream (orange and purple varieties) and it was delicious!  Kawagoe also had lots of other sweet potato delicacies, as that is what the area is famous for.
There was lots of food inspiration in Japan that I hope I will be able to do justice to – Oscar style of course!
While we were away I had all my posts and recipes pre-scheduled.  I didn't have a recipe prepared for today's post, so to keep with the Japanese theme, I've updated and reposted my sushi recipe.
Sushi Rolls

Print recipe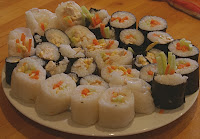 | | |
| --- | --- |
| Serves | 36 |
| Prep time | 2 hours |
| Allergy / Intolerance | Amines, Artificial Addititives, Artificial Colours, Dairy, Egg, Glutamates, Preservatives, Salicylates, Wheat |
| Suitable for | RPAH Elimination Diet - Amines Allowed, RPAH Elimination Diet - Low Chemical / Failsafe, RPAH Elimination Diet - Moderate Chemical, RPAH Elimination Diet – Very High Chemical |
| Meal type | Appetizer, Lunch, Main Dish, Savoury Snack |
| Misc | Child Friendly, Pre-preparable, Serve Cold |
| Occasion | Casual Party, Picnic, Special Occasions |
| Region | Japanese |
Easy home made sushi, with or without seaweed (nori).
Ingredients
Bamboo sushi mat (for rolling sushi)
For the Sushi Rolls:
2 cups glutinous rice (sushi rice)
2 cups water
1/4 cup rice vinegar or vinegar substitute (refer to the Substitutes page for vinegar substitute)
2 tablespoons white sugar
1 teaspoon salt
Fillings (see below)
6 rice paper sheets or seaweed (Nori) sheets
For the Tezu: (Optional)
Additional rice vinegar or vinegar substitute
For the Dipping Sauce:
80ml water
1 teaspoon sunflower oil
1 teaspoon minced garlic
1 teaspoon citric acid
1 1/2 tablespoon soft brown sugar
Directions
Sushi Rice
1.
Rinse the rice by placing it in a bowl, filling the bowl with enough water to cover the rice, then swishing it around, drain and repeat until the water runs clear.
2.
Place the rice and water into a saucepan and let the rice soak for 20 to 30 minutes.
3.
Place the saucepan onto the stove top and bring to a boil. Reduce the heat to a simmer and cover the rice. Allow to cook for 10 minutes. Turn off the heat, leave the lid on, and allow the rice to steam for 20 minutes.
4.
While the rice is cooking make the sushi vinegar by mixing the vinegar, sugar and salt together in a small saucepan and heating it until the sugar and salt dissolve.
5.
Once the rice is cooked, place it in a large flat bowl. Sprinkle the sushi vinegar over the rice and use a wooden spoon or spatula to mix the rice and vinegar. Try not to break or flatten the rice.
6.
Once it is well mixed use a fan or plate to fan the rice down to room temperature. This will make it look glossy as well as being nice and sticky, and doesn't take as long as it sounds.
While the rice is cooking prepare the fillings. Possible fillings include:
7.
Finally chopped raw vegetables – e.g. carrots (Mod Sals), celery (Low Chem), peeled cucumber (Mod Sals) - or thinly sliced cooked vegetables - e.g. sweet potato or butternut pumpkin (Mod Sals)
8.
Lettuce leaves – whole leaves placed directly over the rice then other fillings added on top (Iceberg is Low Chem, other varieties contain Salicylates)
9.
Mung Bean Sprouts (Low Chem)
10.
Fried egg (Low Chem) – combine 1 egg, a pinch of salt, a pinch of sugar and a tblspn of water. Cook in a frying pan like an omelette, once cooked slice into thin strips. (Based on the Egg Rolls recipe in The Failsafe Cookbook.)
11.
Cooked chicken mixed with cream cheese or home made mayonnaise (Low Chem)
12.
Slices of tuna or salmon (tinned or cooked fillets) mixed with cream cheese or home made mayonnaise (Amines)
13.
Chopped hard boiled egg (Low Chem)
14.
Thinly sliced cooked chicken (Low Chem) marinated in Golden Marinade
Tezu
15.
Smearing Tezu over your hands helps to stop the rice sticking to them – it is incredibly sticky – but I still had to rinse my hands in water a few times. Tezu is made by mixing equal parts water and rice vinegar / vinegar substitute.
Making the Rolled Sushi or Futomaki (thick or fat roll)
16.
Seaweed Rolls:
a) Place the seaweed sheet, shiny side down, on the bamboo mat. Place the mat so that the long side is closet to you.
b) Moisten your hands with Tezu, if using.
c) Spread the sushi rice evenly over the rice paper with your hands, leaving 3cm along the furthest edge of the bamboo mat bare. Make the rice about 1/2 – 1cm thick
d) Place the fillings in a line along the rice about 3cm in from the nearest edge. You will need to experiment a bit with how much filling will fit.
e) Starting from the nearest edge, hold the mat with both hands and roll the nearest edge over the filling, carefully squeeze and compress the mat evenly across the entire roll. Continue rolling the seaweed until the roll meets the bare edge. It should seal itself, but if it doesn't, moisten the bare edge with a bit of water or Tezu.
17.
Rice Paper Rolls:
a) Soak the dry rice paper in a large bowl of warm water for about 10 seconds then place evenly over the bamboo mat. As the rice paper is round, I used the bamboo mat as the guideline for the rice and filling. Fold over the round edge closest to you so that side is straight and even with the bamboo mat.
b) Moisten your hands with Tezu, if using.
c) Spread the sushi rice evenly over the rice paper with your hands, leaving 3cm along the furthest edge of the bamboo mat bare. Make the rice about 1/2 – 1cm thick
d) Place the fillings in a line along the rice about 3cm in from the nearest edge. You will need to experiment a bit with how much filling will fit.
e) Starting from the nearest edge, hold the mat with both hands and roll the nearest edge over the filling, carefully squeeze and compress the mat evenly across the entire roll. Continue rolling the rice paper until the roll meets the bare edge. Fold the extra bit of rice paper around the roll to seal.
18.
Place the rolls in the fridge for about 5 minutes before cutting them. Cut each roll in half, then each half into 3. Apparently it is bad luck to cut a roll into 4 pieces.
19.
Serve straight away with the dipping sauce, or store in the fridge until ready to eat.
Dipping Sauce
20.
Combine all the ingredients for the dipping sauce in a small bowl.
Note
Low Chemical /Amines, Moderate Salicylates, Glutamates – see variations and fillings.
Nori and Rice Vinegar are likely very high in glutamates, salicylates and/or amines.
This recipe made 6 large rolls, which are cut into 6 pieces each.
Variations:
For a low chemical version use the rice paper instead of seaweed, replace the rice vinegar with vinegar substitute and use low chemical fillings.
Another style of sushi that doesn't use seaweed is Nigri (hand pressed sushi), which is the oval of pressed rice that often has raw fish on top, but you could also use omelette or thin strips of vegetables as the topping.
Refer here for the mayonnaise recipes and Golden Marinade recipe to use with the fillings.