This is my favourite biscuit recipe at the moment.  Since I cut down on eating wheat, I've found that I can't eat very much at all.  Even 1 biscuit gives me terrible pains in the stomach (I guess I'm "food intolerance" as Oscar says!).  These biscuits are easy and very filling, so even though I only get 11 or 12 out of batch, they do last for a few days.
If amines are tolerated you could also use white chocolate instead of the white melts.
Rye and Spelt White Choc chip Cookies

Print recipe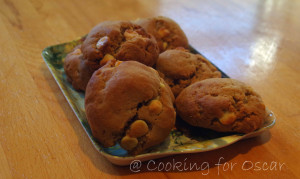 Easy, wholesome rye and spelt biscuits
Ingredients
3/4 cups rye flour
110g spelt flour
3/4 teaspoons baking powder (Refer to recipe)
1/2 teaspoon bicarbonate of soda
3/4 teaspoons salt
100g butter or Nuttelex
1/2 cup brown sugar (lightly packed)
1 ripe pear (mashed)
1 teaspoon vanilla essence (Refer to recipe)
100g Nestle white melts (chopped into small pieces)
Directions
1.
Preheat the oven to 180°C and line two trays with baking paper.
2.
Sift the flours, salt, baking powder and bicarbonate of soda into a medium-sized bowl.
3.
In a separate bowl cream the butter and sugar.
4.
Add the pear and mix until just combined. Stir in the vanilla.
5.
Add the flour and mix until just combined. Stir in the white melts.
6.

Take a heaped teaspoon of dough and roll into a ball, flatten it slightly and place on the baking tray. Repeat for the remaining dough, leaving some space in between on the trays.

7.

Bake for 10 - 12 minutes, until the cookies are cracked and the tops are dry and brown. Allow to cool on the trays.
Note
Low Chemical / FAILSAFE
You can find my recipes for baking powder and vanilla essence here: