Granola is an american breakfast cereal, very similar to our toasted muesli, although it is often clumpy.  I came across a granola recipe on Go Dairy Free (I can't find the link to the original recipe) using maple syrup, coconut oil and spices, but I instantly knew with a few substitutes I would have a new breakfast cereal for Oscar.  This recipe is really quick, the hardest part is leaving it in the oven for 3 hours before trying it!
FAILSAFE Granola

Print recipe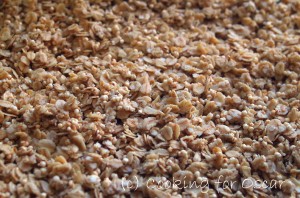 | | |
| --- | --- |
| Serves | 6 |
| Prep time | 10 minutes |
| Cook time | 3 hours, 10 minutes |
| Total time | 3 hours, 20 minutes |
| Allergy / Intolerance | Amines, Artificial Addititives, Artificial Colours, Dairy, Egg, Glutamates, Preservatives, Salicylates, Wheat |
| Suitable for | Dairy / Lactose Free, RPAH Elimination Diet - Low Chemical / Failsafe |
| Meal type | Breakfast |
| Misc | Pre-preparable, Serve Cold |
Easy granola breakfast cereal, low chemical / FAILSAFE.
Ingredients
1/4 cup rice bran oil
1/4 cup pure maple syrup
1/8 teaspoon salt
2 cups rolled oats
1/2 cup quinoa flakes
1/2 cup puffed quinoa
Optional
1 teaspoon carob syrup (See note below.)
Directions
1.
Preheat the oven to 150°C and line a baking tray with baking paper.
2.
Combine the oats, quinoa flakes and puffed quinoa in a large bowl.
3.
In a separate bowl combine all the other ingredients, then pour over the oat mixture.
4.
Stir to completely coat the oats and quinoa.
5.
Spread the mixture in a thin layer over the baking tray.
6.
Bake for 10 minutes then turn off the oven (don't open the door) and leave the tray in the oven for 2 to 3 hours or overnight.
7.
Remove from the oven and stir to break up any large clumps. Store in an airtight container.
8.

Serve with milk / milk alternative or yogurt, and any allowed fruit.
Note
Low Chemcial / FAILSAFE
Carob syrup can be purchased, but it is also quite easy to make your own.
Use this recipe as a base and add in other cereals or grains (e.g. puffed rice, amaranth), nuts and seeds (if allowed).