This dessert is pure comfort food.  There is nothing healthy about it!  I found the original recipe for caramel apple self-saucing pudding on Food to Love, and planned to make it that way, but Oscar instead on using pear. Of course, it can still be made with apple, as long as the salicylates are OK.
Caramel Pear Self Saucing Pudding

Print recipe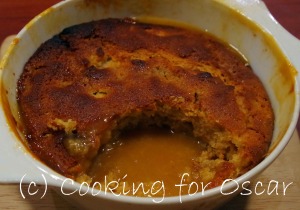 Comfort food for winter!
Ingredients
100g white spelt flour
90g wholemeal spelt flour
2 1/2 teaspoons baking powder
3/4 cups brown sugar
2 cups boiling water
100g butter (melted)
1 egg (lightly beaten)
1/2 milk or butter milk
1/2 cup golden syrup
1 ripe pear (peeled and chopped)
Directions
1.
Preheat the oven to 180°C, and lightly grease a 6 cup ovenproof dish.
2.
Sift together the flours, baking powder and 1/4 cup sugar, adding the husks back in.
3.
In a separate bowl, combine the butter, milk, egg, 1/4 cup golden syrup and pear.
4.
Combine the wet and dry ingredients, stirring until well combined.
5.
Pour into the prepared dish and sprinkle 1/2 cup sugar over the top.
6.
Combine the boiling water and remaining golden syrup, then pour evenly over the pudding mixture.
7.

Bake for 40 to 45 minutes. A skewer inserted into the cake should come out clean.

8.

Serve warm with cream or vanilla ice cream.
Note
Low chemical/FAILSAFE, moderate salicylates.
If you don't have spelt flour, you can replace it with regular white and wholemeal flour.
The original recipe for this used apple instead of pear.  If moderate salicyaltes are tolerated, replace the pear with 1/2 cup of chopped or grated Red or Golden Delicious apple (peeled).