Have you ever had a request for pizza for dinner from the kids, but don't have any pizza dough, bases, wraps, etc. in the pantry?  This is the answer.  It takes only 15 minutes to create 3 or 4 of these pizza bases, that's too easy!
No Yeast Pizza Dough

Print recipe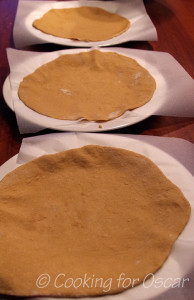 A quick pizza dough when you don't have any to hand.
Ingredients
225g spelt flour
3 teaspoons baking powder
pinch salt
1 egg
1/2 cup milk
2 tablespoons sunflower oil
Directions
1.
Combine the dry ingredients in a large bowl and make a well in the centre.
2.
Whisk together the liquid ingredients then add to the dry ingredients.
3.
Mix into a soft dough.
4.

Divide into 3 to 4 pieces, depending on the size of the pizzas required, and roll out.

5.
Once you've added your toppings cook for 10 - 12 minutes at 200 °C, preferably on a pizza stone or hot tray.
Note
Low Chemical / FAILSAFE
If you don't have spelt flour you can regular white flour.