Apple Pie ice Cream

Print recipe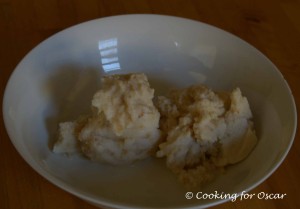 | | |
| --- | --- |
| Serves | 1 1/2 - 2 litres |
| Prep time | 3 hours, 30 minutes |
| Allergy / Intolerance | Amines, Artificial Addititives, Artificial Colours, Egg, Glutamates, Preservatives, Salicylates, Wheat |
| Suitable for | Gluten Free, RPAH Elimination Diet - High Chemical, RPAH Elimination Diet - Low Chemical / Failsafe, RPAH Elimination Diet - Moderate Chemical, Salicylate Challenge |
| Meal type | Dessert, Sweet Things |
| Misc | Child Friendly, Freezable, Ice Cream Maker, Serve Cold |
Fun, easy apple pie ice cream.
Ingredients
1/4 cup brown sugar (lightly packed)
1 tablespoon unsalted butter
2 Medium Red Delicious apples (peeled, cored and cut into 1-2 cm pieces)
3/4 cups plain sweet biscuits (roughly broken up into small pieces and crumbs)
Optional
For the ice cream base:
1 can skim condensed milk (400 ml)
4 cups low fat milk
1 teaspoon vanilla essence
Directions
| | |
| --- | --- |
| 1. | Place the crushed biscuits into a sealed bag or container and place in the freezer until ready to use. |
| 2. | Combine the sugar and butter in a large frying pan over medium heat and cook until it is melted and bubbly. |
| 3. | Add the apples and cinnamon and cook, stirring frequently, until the apples are tender and the liquid has mostly evaporated. Set aside to cool for at least 20 minutes. |
| 4. | Combine the condensed milk, milk and vanilla in a large bowl and stir until well blended. |
| 5. | Pour half of the milk mixture into a food processor and add the apples. Process until almost smooth with a few lumps. |
| 6. | Pour the processed mixture back into the bowl with the remaining milk and mix until well combined. |
| 7. | Place in the fridge to cool for at least 2 hours, or overnight. |
| 8. | Pour the ice cream mixture into the ice cream maker and churn as per the manufaturer's instructions. Add the biscuit crumbs at the last minute. |
| 9. | Transfer to a container and place into the freezer until ready to serve. |
Note
Moderate/Very High Salicylates*, Low Glutamates, Low Amines
*Cinnamon is very high in salicylates, but in small quantities per serve may be suitable if moderate salicylates are tolerated.  It can be left out if not tolerated.
The biscuits used, can be any biscuits that are tolerated, such as Arnotts Marie biscuits, home made sugar biscuits, etc.  Gluten-free biscuits can be used.
This ice cream recipe is low in fat, so it is best served the day it is made.  It will go icy and hard after this, but can be taken out and softened before serving.  Alternatively use full fat milk and condensed milk.
Pears could very easily be substituted for the apples to make a low chemical "Pear Pie" ice cream (leave out the cinnamon).