Carrot Zucchini and Apple Loaf

Print recipe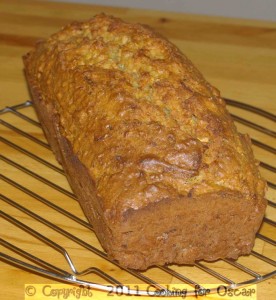 A healthy carrot, zucchini and apple cake.
Ingredients
1 cup white self-raising flour
1 cup wholemeal self raising flour
1 teaspoon bicarbonate of soda
1/4 teaspoon salt
1/2 cup castor sugar
3 eggs (lightly beaten)
1/2 cup sunflower oil
1 cup grated carrot
1 cup peeled grated zucchini (squeezed to remove the excess liquid)
1/2 cup peeled grated red or golden delicious apple (squeezed to remove the excess liquid)
Optional
pure icing sugar (for dusting)
Directions
1.
Preheat the oven to 180 C. Grease and line a deep loaf pan with baking paper, or use a silicon loaf pan or mini loaf pans (makes 12 mini loaves).
2.
Sift the flours, bicarbonate of soda and salt into a large bowl, adding the husks back in. Stir in the sugar.
3.
Combine the eggs and oil in another bowl.
4.
Stir the egg mixture, carrot, zucchini and apple into the flour mixture until just combined.
5.
Spoon into the prepared pan(s) and smooth the top. For a single loaf bake for 50 minutes, for 12 mini loaves bake for 20 minutes, or until a skewer inserted into the middle comes out clean.
6.
Cool in the pan(s) for 10 minutes then turn onto a wire rack to cool.
7.
Optional – dust with icing sugar before serving.
To make Carrot, Zucchini and Apple Muffins:
8.

Line 14 muffin moulds with paper cup cake pans. Divide the batter evenly between the paper pans then bake for 15 to 20 minutes, or until a skewer in the centre comes out clean.

9.
The muffin version of this cake is great for freezing and using in lunch boxes.
Note
Moderate Salicylate, Low Glutamates, Low Amines
Mini loaves can be frozen and thawed either in the microwave or at room temperature.