Cocomallows

Print recipe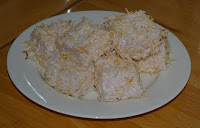 | | |
| --- | --- |
| Serves | 60 |
| Prep time | 1 hour, 30 minutes |
| Cook time | 30 minutes |
| Total time | 2 hours |
| Allergy / Intolerance | Amines, Artificial Addititives, Artificial Colours, Glutamates, Preservatives, Salicylates |
| Suitable for | RPAH Elimination Diet - Amines Allowed, RPAH Elimination Diet - High Chemical, RPAH Elimination Diet - Low Chemical / Failsafe, RPAH Elimination Diet - Moderate Chemical |
| Meal type | Sweet Things |
| Misc | Child Friendly, Pre-preparable, Serve Cold |
| Occasion | Birthday Party, Casual Party, Special Occasions |
Home made marshmallows squares, no preservatives, colours or additives.
Ingredients
1 3/4 cup caster sugar
1/2 cup boiling water
2 tablespoons powdered gelatine
3/4 cups cold water
1 teaspoon vanilla extract
Hoppers Cherry Red natural food colouring
1 1/2 cup fresh grated coconut (Refer to Basics page)
Directions
| | |
| --- | --- |
| 1. | Preheat the oven to 120°C. Spread the coconut over the base of a non-stick baking tray or pan and place in the oven to toast for about 10 – 15 minutes minutes, until it starts to turn golden brown. Give it a bit of stir half-way through. Set aside until ready to use. |
| 2. | Grease a large pan or rectangular container at least 3 cm deep and approximately 20cm x 30cm. Line with baking paper, allowing the paper to hang over the sides. |
| 3. | Place the sugar and cold water in a saucepan over low heat and stir until all the sugar has dissolved. |
| 4. | Place the boiling water into a bowl and and sprinkle the gelatine over the top. Stir with a fork to dissolve the gelatine. Add to the sugar mixture and bring to the boil, stirring. Allow to boil for 15 minutes, stirring continuously. Set aside for 20 minutes to cool. |
| 5. | Using an electric mixer, beat the gelatine mixture on medium speed for 5 minutes, then on high speed for 5 to 7 minutes, or until it is thick. Add the vanilla and tint with food colouring to your desired colour (more food colouring means more salicylates). Beat until combined then pour into the prepared pan. Level the top with a spatula and put into the fridge for 45 minutes to set. |
| 6. | Lift the marshmallow out of the pan and use a hot knife to cut it into squares about 3cm in size (a 20cm x 30cm pan will give 60 marshmallows this size). Roll each piece in the toasted coconut. |
| 7. | Serve immediately or store in an airtight container at room temperature for up to 2 days. |
Note
Low Chemical / Failsafe, Moderate / High Salicylates, Low/Moderate Amines
Refer to the Basics page for fresh coconut.
Notes:
Gelatine contains sulphites, but most of these can be removed by boiling, but may still be a problem for very sensitive people.
Fresh grated coconut contains moderate amines and salicylates.
Natural food colouring contains high levels of salicylates.
Variations:
1. For a low chemical version leave out the food colouring and roll the marshmallows in icing sugar or a 50/50 mix of icing sugar and cornflour.
2. If moderate salicylates and amines are OK just leave out the food colouring.
3. If salicylates and amines are not a problem use organic shredded coconut (Macro foods) instead of fresh.  This will take less time to toast.