Egg-free Mayonnaise

Print recipe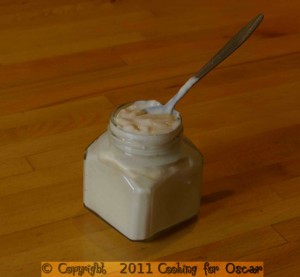 Easy egg-free mayonnaise.
Ingredients
1/2 cup light evaporated milk
1/2 cup sunflower oil
2 teaspoons rice malt syrup
1 - 2 tablespoon lemon juice substitute (Refer to basics page)
Salt
Directions
1.
Pour the evaporated milk into a food processor and start to whiz. Add the oil 2 tablespoons at a time.
2.
Once all the oil has been added, add the remaining ingredients. Adjust the amount of lemon juice substitute to taste.
3.
Process at high speed for a couple of minutes until thick.
4.

Store in the fridge. It will last for at least a week.
Note
Low chemical / failsafe
Lemon juice substitute recipe.
If salicylates aren't a problem use lemon juice and honey instead of the lemon juice substitute and rice malt syrup.