"Lemon" Chicken

Print recipe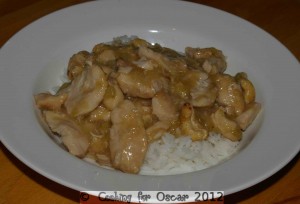 Lemon chicken with no lemon.
Ingredients
4 tablespoons plain white flour
600g skinless chicken fillets
1 tablespoon sunflower oil
1/2 Large leek (finely sliced)
1 stalk celery (finely sliced)
3 cloves garlic (crushed)
1 teaspoon white sugar
3/4 teaspoons tartaric or citric acid
1/4 cup whisky
1 tablespoon brown sugar
1 cup chicken or vegetable stock (Refer to Basics Page)
1 tablespoon cornflour
Water
Salt
Canola oil spray.
Optional
Directions
1.
Preheat the oven to 180°C. Lightly spray an oven-proof casserole dish.
2.

Place the leek, celery, a pinch of salt and the crushed garlic into the casserole dish.

3.
Add the plain flour and a pinch of salt to a plastic bag.
4.
Slice the chicken fillets into strips and add to the bag. Shake the bag to coat the chicken strips.
5.
Add the chicken to the casserole dish.
6.

In a small saucepan add the tartaric/citric acid, whisky, sugars, stock and 200ml of water. Cook over medium heat until the sugar is dissolved. Pour over the chicken.

7.

Cook the chicken in the oven with the lid on for 1 1/2 hours.

8.
Mix together the cornflour and 1/2 cup water until smooth then add to the casserole dish. Stir to create a sauce. Add the cashews, if using.
9.
Return the casserole dish to the oven at 100° with the lid on for another 30 minutes or until the sauce has thickened.
10.

Serve with rice, cous cous or noodles.
Note
Low Chemical / Failsafe.
Adjust the quantities of tartaric/citric acid to suit your tastes.