Pear and Buttermilk Muffins

Print recipe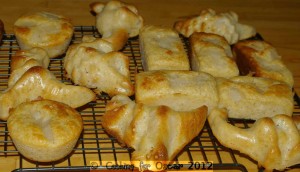 Moist, delicious pear and sour cream muffins.
Ingredients
1 cup plain white flour
1 cup wholemeal plain flour
4 teaspoons baking powder
1/2 cup caster sugar
2 eggs (lightly beaten)
65g butter or Nuttelex (melted)
350g sour cream
1 teaspoon vanilla essence
1/2 teaspoon citric acid
2 Ripe pears (peeled, cored and diced into 1cm pieces)
Canola oil spray (for greasing)
Directions
1.
Preheat the oven to 170°C and prepare 3 muffin trays.
2.
Sift the flours, baking powder and sugar into a large bowl, adding the husks back in. Add the citric acid.
3.
In a separate bowl combine the eggs, melted butter, vanilla and sour cream.
4.
Add the wet ingredients to the dry ingredients and mix through until just combined.
5.
Add 2/3 of the diced pear and stir through.
6.
Divide the mixture into the muffin trays and push the remaining pears lightly into the top of the muffins.
7.
Bake for 25 to 30 minutes, or until golden and cooked through.
8.

Let stand in the trays for 5 minutes then turn onto a wire rack to cool immediately.
Note
Low Chemical / Failsafe
Variations:
4 pear halves in syrup can be substituted for the 2 pears.
substitute the sour cream for 1 cup of butter milk and 3/4 cup rice milk.