Royal Icing for Biscuit Decorating

Print recipe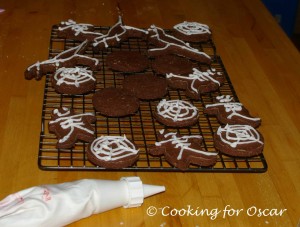 Royal icing for piping to decorate biscuits.
Ingredients
1 egg white
1 1/2 cup pure icing sugar (sifted)
Directions
1.

In a bowl with an electric mixer, whisk the egg white then gradually add in the icing sugar and whisk on low speed until smooth. You need to have a firm pipeable consistency. If it is too hard add a bit more egg white, if it is too soft add some more icing sugar.

2.

Tansfer the icing to a piping bag. If it doesn't all fit, store the rest in an airtight container until you need it.

3.
Pipe directly onto the biscuits and allow to set for 20 minutes.
Note
Low Chemical / Failsafe
Variations:
To make coloured icing add a few drops of Hoppers natural food colours (if tolerated).
Add some carob of chocolate to the icing sugar before mixing in.