Swedish Scalded Rye Bread

Print recipe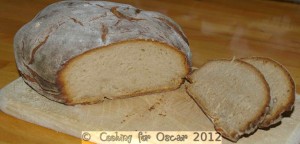 Swedish Scalded Rye Bread, a moist, hearty bread.
Ingredients
6 cups Coarse rye flour
1l Boiling water
6 teaspoons Lowan's Dried Instant Yeast
150ml Buttermilk
1 teaspoon Salt
50ml Golden syrup
4 cups Plain white flour (approximately)
Directions
1.

Place the rye flour in a large bowl. Pour in the boiling water and mix until you have a thick (porridge -like) mush. Let it stand, covered with a clean tea towel, until it cools to body temperature (around 37 C). This takes 2 to 3 hours.

2.

Dissolve the yeast in the butter milk. Add the yeast mixture, salt and golden syrup to the rye flour dough. Add the white flour, holding back 100ml, and work into a smooth, fairly stiff dough.

3.
Let the dough rise, covered, at room temperature for 1 hour.
4.

Turn the dough out onto a lightly floured board (using the held back flour) and knead. Split the dough in half and mould into 2 large round loaves.

5.

Place the loaves on a lined baking tray, and allow to rise, covered, at room temperature for approximately 40 minutes or until light and porous.

6.

Preheat the oven to 175 C. Bake the loaves low in the oven for 1 1/2 hours.

7.

Let the loaves cool, wrapped in a clean tea towel, on a wire rack. Let them rest for 1 day before serving.
Note
Low Chemical / Failsafe
Leaving the bread to rest for 1 day before serving allows the remaining moisture in the bread to spread evenly through the loaf.  You can, however, eat it sooner if you really can't wait.
This bread keeps well in an air tight container for up to a week.
Makes 2 loaves.