While out shopping with Oscar today we found some Gingerbread Man muffin moulds, so wanting to make something Christmasy I decide to try the Gingerbread Muffin recipe in the The Failsafe Cookbook.  The recipe was gluten free, so I replaced the gluten free ingredients with ordinary flour, but have listed both recipes here.  There's no ginger in these muffins as it is high in salicylates, but there is a very slight ginger flavour to them.  In the spirit of Christmas Oscar helped decorate the muffins and we made gingerbread men and Christmas presents.  The icing recipe is also from The Failsafe Cookbook.
"Gingerbread" Muffins

Print recipe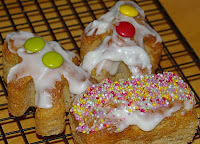 | | |
| --- | --- |
| Serves | 12 |
| Prep time | 20 minutes |
| Cook time | 20 minutes |
| Total time | 40 minutes |
| Allergy / Intolerance | Amines, Artificial Addititives, Artificial Colours, Glutamates, Preservatives, Salicylates, Wheat |
| Suitable for | Gluten Free, RPAH Elimination Diet - Low Chemical / Failsafe |
| Meal type | Sweet Things |
| Misc | Child Friendly, Freezable, Pre-preparable, Serve Cold |
| Occasion | Birthday Party, Christmas, Special Occasions |
| From book | The Failsafe Cookbook |
Gingerbread muffins without the ginger.
Ingredients
1 cup plain white flour
1 cup plain wholemeal flour
4 teaspoons baking powder
pinch salt
2 eggs (lightly beaten)
2/3 cups brown sugar
1 cup pear puree (approximately 3 pears pureed)
1/2 cup golden syrup
3 tablespoons sunflower oil
To decorate: (Optional)
1 cup pure icing sugar (sifted)
2 teaspoons butter (melted)
1-2 tablespoon hot water
Directions
1.
Preheat the oven to 180 C. Prepare two 6-hole muffin trays.
2.
Sift together and combine the dry ingredients, except the sugar. Tip the husks from the wholemeal flour back into the bowl.
3.
Sift the sugar to remove any lumps, then combine in a bowl with eggs, pear puree, golden syrup and oil.
4.
Stir in the dry ingredients and mix until just combined.
5.
Spoon the batter into the muffin trays. Bake for 15 to 20 minutes or until cooked.
6.
Allow to cool slightly then turn out onto a wire rack to cool completely.
To decorate (optional):
7.
Combine all the ingredients for the icing, adding enough water to make a spreadable consistency.
8.
Spread over the muffins and add additional decorations such as Smarties (Amines) or naturally coloured 100s and 1000s (Salicylates).
Note
Low Chemical / Failsafe
For the gluten free version, replace the 2 cups of flour and baking powder with:
1 cup brown rice flour
1/2 cup potato flour
1/2 cup cornflour
2 tspn xantham gum
1 tspn gelatine
1 1/2 tspn gluten-free baking powder
1 1/2 tspn sodium bicarbonate