Recently I found some Qinoa (pronounced keen-wah)  flakes at the supermarket, and thought I'd try adding them to a few recipes.  I had read that they had a funny after taste, but none of us have experienced that, in fact hubby didn't even notice that there was anything different.
Pumpkin, Quinoa and Ricotta Muffins (Moderate Salicylates, Low Amines, Low Glutamates)
300g butternut or squash pumpkin, peeled and chopped
1 cup plain self raising flour
1 cup wholemeal self raising flour
1/4 cup sunflower oil
2 eggs, lightly beaten
1 cup light smooth ricotta
1/3 cup quinoa flakes
Poppy seeds or grated cheese for the top (Amines)
Preheat the oven to 180 C and prepare the muffin pans (makes 12 regular sized muffins).
Steam the pumpkin until soft, then mash and set aside to cool.
Combine the pumpkin, ricotta, oil and eggs in a bowl and stir to combine.
Sift the flours (returning the husks) and combine with the quinoa flakes.
Add the pumpkin mixture to the flour and stir until just combined.
Spoon into the muffin pans and top with poppy seeds or cheese.
Bake for 20 to 25 minutes, until golden and cooked through.  Remove from the oven and allow to cool in the pan for a few minutes before transferring to a wire rack.  Can be served warm or cold.
Muesli Bars with Quinoa Flakes (Amines / Moderate Salicylates/Low Chemical)
Makes 10 bars
Canola oil spray
1/4 cup rolled oats
1/2 cup quinoa flakes
3/4 cup puffed rice
1/3 cup oat bran
1/3  cup (50g) plain flour
2/3 cup (90g) dried fruit, coarsely chopped (pears – low chem., bananas & paw paws/papaya – amines).
1/3 cup coarsely chopped cashews (or processed bran for a nut free version)
2 tbsp wheat bran
1/3 cup (80ml) liquid from tinned pears in syrup
2 tbspn soft brown sugar
2 tbspn golden syrup
1 tspn vanilla essence
Preheat the oven to 180°C. Line a 20 x 20cm baking tin with foil, leaving a good overhang. Coat with canola oil spray.
Place the wheat bran, quinoa flakes, oats and oat bran in a baking tray and toast in the oven for about 10 minutes or until the oats are lightly browned and fragrant. Transfer to a large mixing bowl and add the flour, puffed rice, dried fruit and cashews/processed bran.
Combine the pear syrup, brown sugar and golden syrup in a small saucepan. Cook over a medium heat until the brown sugar has dissolved. Remove from the heat and stir in the vanilla essence. Pour the syrup over the oat mixture, stirring to coat.
Spoon the oat mixture into the foil-lined baking tin. With moistened hands, press the mixture into an even layer. Cut the mixture into bars (I get 10) in the pan.
Bake for about 15 minutes or until firm. Using the foil overhang, carefully lift out the muesli cake and cool on a wire rack. When cool.
Store in an air-tight container.
Pear and Apple Crumble

Print recipe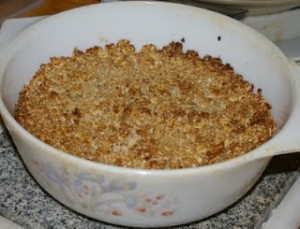 Healthy, low fat crumble with apple and pear.
Ingredients
3 Red or Golden Delicous apples (peeled, cored and diced)
200g pears in syrup (drained and diced)
1/2 cup rolled oats
1 cup quinoa flakes
1/4 cup brown sugar
1/4 cup light evaporated milk
Directions
| | |
| --- | --- |
| 1. | Pre-heat the oven to 180 C and grease a 2 litre oven proof dish. |
| 2. | Place the apples in a saucepan with a small amount of water and cook until soft, drain. |
| 3. | Combine the pears and apple and place into the dish. |
| 4. | Combine the rolled oats, quinoa flakes, sugar and evaporated milk and mix well. Spread over the fruit. |
| 5. | Bake for 30 minutes or until golden brown. |
| 6. | Serve hot. |
Note
Moderate Salicylates, Low Amines, Low Glutamates