This one is for when you have a little bit of time for preparation but it is worth it.
Cashew Chicken and Vegetables

Print recipe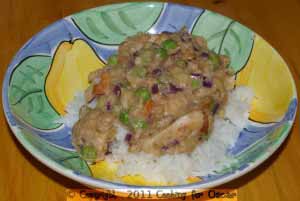 Ingredients
500g chicken breast fillets
1/2 cup plain white flour
pinch salt
sunflower oil
2 spring onions (Chopped)
1/2 teaspoon white sugar
1/2 teaspoon salt
2 tablespoons cashew paste
1 clove garlic (large)
1/2 cup cabbage (Chopped or shredded)
1/2 cup vegetables (Finely chopped, e.g. green beans, swede, lentils, brussel sprouts. If moderate salicylates are tolerated include carrot or peeled zucchini; if moderate glutamates are OK include peas.)
1 cup Vegetable Sauce (Refer to Basics Page)
water
Directions
| | |
| --- | --- |
| 1. | Slice the chicken into strips. |
| 2. | Put the flour and pinch of salt in a freezer bag. Place the chicken inse the bag and shake to coat the chicken. |
| 3. | Shallow fry the chicken in some oil until cooked, then set aside in a dish with some paper towel to absorb the excess oil. Drain most of the oil from frying pan and discard. |
| 4. | Add the cashew paste and garlic to the frying pan with the spring onions, salt and sugar and a dash of water. Stir until it forms a fairly runny sauce. Add more water if needed - even a cup or so. Add the vegetables, cabbage, sauce and chicken and stir until the whole lot is coated in the sauce. |
| 5. | Put a lid on and let the cabbage and veggies steam until cooked. |
| 6. | Serve with rice or noodles. |
Note
Low Chemical / Failsafe, Moderate Salicylates, Moderate Glutamates
Refer to Basics Page for Vegetable Sauce Recipe.