I love apple pie, always have.  When we started the RPAH Elimination Diet apple pie become pear pie – which was also pretty good.  So now we combine both and have delicious apple and pear pie, sometimes with just a little bit of cinnamon (high salicylates).
Apple and Pear Pie

Print recipe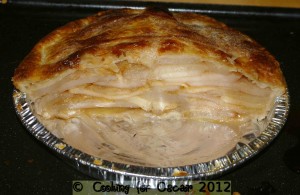 | | |
| --- | --- |
| Serves | 6 |
| Prep time | 40 minutes |
| Cook time | 30 minutes |
| Total time | 1 hours, 10 minutes |
| Allergy / Intolerance | Amines, Artificial Addititives, Artificial Colours, Glutamates, Preservatives, Salicylates |
| Suitable for | RPAH Elimination Diet - High Chemical, RPAH Elimination Diet - Low Chemical / Failsafe, RPAH Elimination Diet - Moderate Chemical, Salicylate Challenge |
| Meal type | Dessert |
| Misc | Child Friendly, Pre-preparable, Serve Cold, Serve Hot |
Easy apple and pear pie.
Ingredients
3 Large ripe pears
3 Large Red or Golden Delicous apples
3 tablespoons brown sugar
2 tablespoons water
2 sheets frozen butter puff pastry
Canola oil spray
1 tablespoon milk
2 teaspoons caster sugar
Optional
Directions
1.

Peel, core and thinly slice the pears and apples and place in a medium saucepan. Mix in the brown sugar, cinnamon (if using) and water.

2.
Cook over low heat, covered, for about 10 minutes until the apple is soft. Set aside to cool.
3.
Preheat the oven to 220°C and grease an 18cm diameter pie tray.
4.
Thaw the frozen pastry sheets.
5.
Line the pie tray with one sheet of pastry and spoon in the apple and pear filling.
6.
Top with the second sheet of pastry and press down firmly on the edges to seal. Cut away the excess pastry.
7.
Make a hole in the centre of the pastry. Brush with milk and sprinkle with the caster sugar.
8.

Bake in the oven for 30 minutes. Cover the top with foil if it starts to get too dark.

9.

Allow to cool slightly then serve. Can also be served cold.
Note
Moderate Salicylates, Low Glutamates, Low Amines
Variations:
1.  For a low salicylate version use 6 pears and no apples or cinnamon.
2.  If a small amount of high salicylates can be tolerated, include the cinnamon.
3.  For a straight apple pie use 6 apples and no pears.