A few days after we got home from Japan Oscar asked me if I knew how to make bread. When I replied that I did, he asked if I could make some bread rolls like we had in Japan.The white bread in Japan is delicious. It can't be at all healthy since it is white and fluffy and very sweet, but a little bit won't hurt. Mind you, Oscar could finish off a pack of 6 bread rolls with jam or banana for breakfast! So wasn't it lucky that into my inbox popped this recipe from La Fuji Mama for Milk Shokupan (Japanese Style White Sandwich Bread) the next day!
I didn't have a bread loaf pan, so I just made the bread as a long loaf on a tray and it worked perfectly.  It was soft and moist and while not as sweet as the bread in Japan, it was sweet enough.  Oscar loved it, we all did.  And it was very hard to stop at just two slices each!
Milk Shokupan, Japanese Style White Bread

Print recipe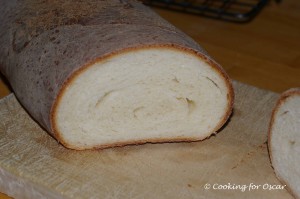 Japanese style white milk bread (Shokupan)
Ingredients
350g plain white flour (sifted)
2 tablespoons white sugar
1 1/2 teaspoon Lowan's Instant Dried yeast
1 teaspoon salt
250ml warm milk (50-55°C)
Canola oil spray (for greasing)
Extra milk for brushing
Directions
1.
In a large mixing bowl combine half the flour with the sugar, yeast and salt.
2.
Add the warm milk and blend, then mix in the remaining flour until it is all combined.
3.

Knead the dough on a floured surface until it is smooth and elastic, or use a mixer with a dough hook to knead for 5 minutes.

4.

Cover the dough with a clean tea towel and set aside in a warm place until it doubles in size (about 1 hour).

5.

Lightly spray a clean surface for rolling on and a rolling pin. Roll the dough into a rectangle approximately 20 cm x 35 cm in size.

6.

Fold over the short ends of the dough.

7.

Roll up the dough from the short side then place the roll on a greased tray with the seam on the bottom.

8.

Cover the dough and let it rise in a warm place until it is doubles in size (approximately 40 minutes). While the dough is rising, preheat the oven to 200°C.

9.

Just before the dough goes into the oven brush the top with some extra milk, then bake for 25 to 30 minutes. When it's cooked the loaf should be golden brown and the top will sound hollow when tapped.

10.
Remove the bread from the oven and let it cool completely on a wire rack.
Note
Low Chemical / Failsafe
My book "Recipes for Oscar" is now available in PDF format which can be viewed on any PC/device that can read PDF files.   Click on the link below to order through the Blurb bookshop.
http://au.blurb.com/bookstore/detail/3599250
Coming Up Next Time: Ham, Carrot and Zucchini Muffins