Blinis are small Russian buckwheat pancakes, that are traditionally served with smoked salmon, caviar and sour cream.  They are delicious served for breakfast with champagne – as only the Russians can do!  Smoked salmon is out and Oscar would never go for caviar, but blinis can be served with many other toppings.  I prefer to have them as a savoury dish, but that concept was lost on Oscar and he had his "pancakes" with maple syrup and banana.  Not what I was aiming for but at least he ate them.  Made with buckwheat they are gluten-free and I made these with rice milk so they are also dairy-free.  The original recipe came from BBC Good Food.
I have belatedly listed my blog on the Circle of Moms Food Allergy Blog list.  Please vote for me and help raise awareness of the FAILSAFE and RPAH Elimination Diets.  Voting ends in a today. If you have already voted you can vote every 24 hours.   Vote here.
Blinis (Russian Buckwheat Pancakes)

Print recipe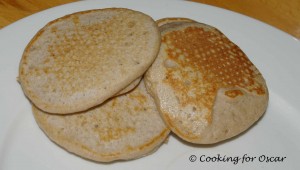 | | |
| --- | --- |
| Serves | 2-3 |
| Prep time | 2 hours |
| Cook time | 10 minutes |
| Total time | 2 hours, 10 minutes |
| Allergy / Intolerance | Amines, Artificial Addititives, Artificial Colours, Dairy, Glutamates, Preservatives, Salicylates, Wheat |
| Suitable for | Dairy / Lactose Free, Gluten Free, RPAH Elimination Diet - Low Chemical / Failsafe |
| Meal type | Appetizer, Savoury Snack |
| Misc | Child Friendly, Pre-preparable, Serve Cold |
| Region | Russian |
Russian blinis, gluten-free, dairy-free and low chemical
Ingredients
For the blinis:
1/2 teaspoon Lowan's Instant Dried yeast
125ml rice milk (warm)
75g buckwheat flour (115 ml)
1 egg (separated)
pinch salt
Sunflower oil (for cooking)
Topping Suggestions:
Cream cheese or sour cream mixed with finely chopped spring onions, parsley or chives
Fried preservative-free bacon
Preservative-free ham
Real Deli Chicken (Refer to recipe)
Sliced cooked FAILSAFE sausage (Refer to recipe)
Mayonnaise (Refer to recipe)
Any kind of dip (Refer to recipes)
Sliced cooked chicken
Directions
1.
Dissolve the yeast in half the milk.
2.
Sift the flour into a bowl and make a well in the centre. Whisk in the yeast mixture, it will look like bread crumbs. Cover with a clean tea towel and leave to stand in a warm place for 45 minutes.
3.
Slightly warm the remaining milk and whisk in the egg yolk. Add to the flour mixture and stir until well combined. Leave to rest for another 45 minutes. The dough will rise and have holes in it.
4.
Beat the egg white until stiff and fold into the mixture.
5.
Heat a small amount of oil in a large frying pan. Add small spoonfuls of the blini dough and cook gently for 1-2 minutes on each side until golden brown.
6.

Allow to cool then top with your choice of toppings and serve.
Note
Low Chemical, Gluten-free, Dairy-free
This recipe makes 7 or 8 blinis that are pikelet size, but you can make them smaller.
I've suggested a number of toppings, but you can use anything that takes your fancy.  Here are the links to the recipes mentioned above: FAILSAFE Sausages, Mayonnaise, Real Deli Chicken and dips.
Coming Up Next Time: Paw Paw Pops