St Patrick's day is coming up this weekend and Rona from Domestic Diva suggested that we make a St Patrick's Day issue of At the FAILSAFE Table.  I didn't have many "green" recipes, so I thought I'd try and find a few Irish ones to try.  The first one is Irish Potato Bread.  While this is traditionally eaten at breakfast as part of a big fry up, we ate it with dinner as an alternative to plain potato and the left overs were also nice the next day, warmed up in the microwave for lunch.  There are lot of recipes for potato bread (also called Farl or Fadge) on the web, so I chose one that could be baked in the oven from Your Irish.
Irish Potato Bread

Print recipe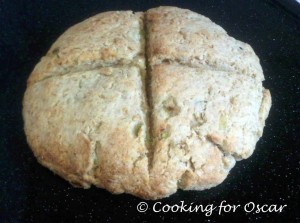 Easy Irish Potato Bread (Farls)
Ingredients
80g plain wholemeal flour
1/2 teaspoon baking powder
pinch salt
30g butter
230g warm mashed potato (approximately 1 large potato)
2 tablespoons milk (approximate)
Butter (to serve)
Optional
1 spring onion (finely chopped)
Directions
| | |
| --- | --- |
| 1. | Preheat the oven to 200°C. |
| 2. | Mix the flour, baking powder and salt in a medium sized bowl. Rub in the butter using your fingertips until the flour looks like breadcrumbs. |
| 3. | Add the spring onions, if using. |
| 4. | Add the mashed potato and mix together with your hands. Add enough milk, if needed, to make a soft dough. |
| 5. | Use your hands to pat the dough into a round about 15cm in diameter and 1cm thick. |
| 6. | Place the dough onto a greased baking tray and cut part way through to mark out quarters. Bake in the oven for about 20 minutes. |
| 7. | Serve hot with butter. |
Note
Low Chemical / Failsafe
Traditionally this bread is served for breakfast as part of a big fry up.
Image courtesy of gubgib / FreeDigitalPhotos.net