Fried Rice

Print recipe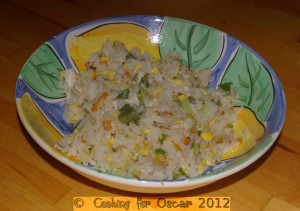 | | |
| --- | --- |
| Serves | 4 |
| Prep time | 15 minutes |
| Cook time | 30 minutes |
| Total time | 45 minutes |
| Allergy / Intolerance | Amines, Artificial Addititives, Artificial Colours, Glutamates, Preservatives, Salicylates |
| Suitable for | Amines Challenge, RPAH Elimination Diet - Amines Allowed, RPAH Elimination Diet - Low Chemical / Failsafe, RPAH Elimination Diet - Moderate Chemical, RPAH Elimination Diet – Very High Chemical, Salicylate Challenge |
| Meal type | Lunch, Main Dish |
| Misc | Child Friendly, Freezable, Pre-preparable, Serve Hot |
Quick and easy week-night meal. This fried rice can be made with whatever you have in the fridge.
Ingredients
1 cup long grain rice (uncooked)
2-3 spring onions (finely chopped)
1/8 cabbage (red or green, finely chopped)
1/2 cup green beans (chopped)
1 Small tin bamboo shoots (rinsed and drained)
1/2 cup mung bean sprouts (rinsed and drained)
2 eggs
1 teaspoon minced garlic
1 cup cooked chicken (chopped)
1 tablespoon golden syrup
2 tablespoons water
If Amines are tolerated: (Optional)
2 Slices preservative-free bacon (finely chopped)
1 tablespoon malt vinegar
If Moderate Glutmates are tolerated: (Optional)
1/2 cup peas (instead of beans)
If Moderate Salicylates are tolerated: (Optional)
1 carrot (finely chopped)
To serve: (Optional)
Tamari (very high amines and glutamates)
Directions
1.
Cook the rice, as per the instructions, then set aside.
2.
If using bacon, cook the bacon in a non-stick frying pan, remove and place onto some paper towel.
3.
Lightly beat the eggs and add to the frying pan, cook and stir until it looks like dried scrambled eggs. Add the garlic and cook for another minute. Add the vegetables and cook for another 1 to 2 minutes. Add the chicken and bacon (if using) and cook until heated through.
4.

Add the rice and stir until well mixed and cooked.

5.

Combine the malt vinegar (if using), water and golden syrup, stir through the rice just before serving

6.
If some salicylates and glutamates can be tolerated, serve with Abundant Earth Tamari - reduced salt soy sauce which has no preservatives, artificial colours or flavours and is wheat-free.
Note
Low Chemical / Very High Amines / Moderate Salicylates / Moderate Glutamates