Saltine Crackers

Print recipe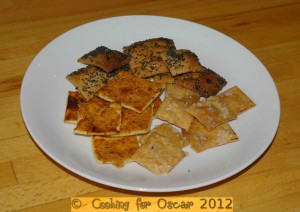 Low salicylate saltine crackers, add your own toppings
Ingredients
Crackers
1 1/4 cup plain white flour
1/2 teaspoon salt
3 tablespoons butter or Nuttelex
6 tablespoons cold water (approximately)
Toppings (Optional)
No-tomato sauce (Refer to Basics Page)
poppy seeds
sea salt
parsley (finely chopped)
chives (finely chopped)
Directions
1.
Preheat the oven to 200 C.
2.
Sift the flour and salt into a large bowl.
3.

Add the butter to the flour and mix together with your hands until it looks like fine bread crumbs.

4.

Add the cold water and mix the dough until it forms a compact ball. If it is crumbly, add more water. If it is sticky add more flour.

5.
Divide the dough into 4 pieces.
6.

Place one piece of dough onto a sheet of baking paper and roll until it is even and flat. The thinner the dough, the crispier the crackers will be.

7.

Pre-cut the dough into crackers before putting into the oven, and use a fork to poke holes in the dough.

Toppings (optional)
8.

The crackers can be cooked plain, or toppings added. Sprinkle sea salt / poppy seeds / parlsey / chives over the dough and press them in so they don't fall off.

9.

Spread no-tomato sauce over the dough before cutting.

10.
Repeat for each ball of dough and place the trays in the oven to bake for 15 to 20 minutes (less in a fan forced oven), or until lightly browned. Keep an eye on them as they go dark very quickly.
11.

Once cool, break up the crackers and store in an airtight container. They will keep for a couple of weeks.
Note
Low chemical / Failsafe
Refer to the basics page for the No-Tomato sauce recipe.