Home Made Pizzas

Print recipe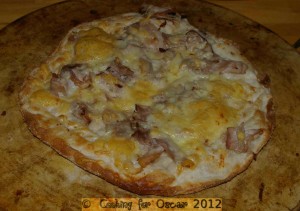 | | |
| --- | --- |
| Prep time | 10 minutes |
| Cook time | 15 minutes |
| Total time | 25 minutes |
| Allergy / Intolerance | Amines, Artificial Addititives, Artificial Colours, Glutamates, Preservatives, Salicylates |
| Suitable for | Amines Challenge, Gluten Free, RPAH Elimination Diet - Amines Allowed, RPAH Elimination Diet - Low Chemical / Failsafe, RPAH Elimination Diet - Moderate Chemical, Salicylate Challenge |
| Meal type | Lunch, Main Dish, Savoury Snack |
| Misc | Child Friendly, Gourmet, Serve Cold, Serve Hot |
Easy home made pizzas, with a variety of toppings to use depending on dietary requirements.
Ingredients
Garlic Oil Base
2 tablespoons Sunflower oil
1 teaspoon Minced garlic
Alternative Bases (Optional)
Leek Sauce (refer to Basics page)
No-Tomato Sauce (refer to Basics page)
Low Chemical Toppings
Cooked chicken (sliced)
Cooked lamb (sliced)
Potatoes (peeled, cooked and thinly sliced)
Chives (finely chopped)
Swede (peeled, cooked and thinly sliced)
Leftover roast potatoes (thinly sliced)
Block Cream cheese (sliced or cubed)
Garlic cloves (roasted)
Leftover roast swede (thinly sliced)
Leftover roast choko (sliced)
Cottage cheese (crumbled)
Amine Toppings
Mozzarella cheese (sliced or grated)
Organic or preservative-free ham
Organic or preservative-free bacon (cooked)
Fetta cheese (crumbled)
Bocconcini cheese (sliced)
Tinned tuna (drained and flaked or sliced)
Tasty cheese (grated)
Moderate Salicylate Toppings
Sweet potato (peeled, cooked and thinly sliced)
Leftover roast sweet potato (sliced)
Directions
| | |
| --- | --- |
| 1. | Preheat the oven to 230 C and place the pizza stone in the oven for 15 minutes to pre-heat. |
| 2. | To make pizzas with a garlic oil base; combine the oil and garlic and use a pastry brush to spread over the pita bread. Alternatively, spread the pita bread with leek sauce or no-tomato sauce. |
| 3. | Place the pizza bases on a plate or sheet of baking paper. Spread your toppings over the base. |
| 4. | Place the prepared pizza on the hot pizza stone and cook for 10 to 15 minutes (depending on the toppings). |
| 5. | Serve immediately. |
Note
Low Chemical / Failsafe, Amines, Moderate Salicylates
For a gluten free pizza, try pizza bases such as Healthy Feast gluten free pizza bases with are also Low Chemical / Failsafe.  Partially cook the bases before adding the toppings.
Refer here for Leek Sauce and No-Tomato Sauce recipes.
Hint: Pizzas are a great way of getting kids involved in cooking, so let them help make their own pizza.