Savoury Calzones

Print recipe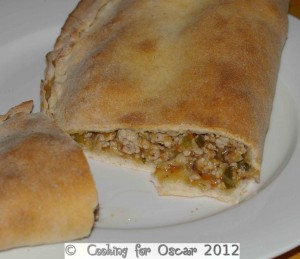 | | |
| --- | --- |
| Serves | 4-8 |
| Prep time | 30 minutes |
| Cook time | 15 minutes |
| Total time | 45 minutes |
| Allergy / Intolerance | Amines, Artificial Addititives, Artificial Colours, Dairy, Egg, Glutamates, Preservatives, Salicylates |
| Suitable for | Amines Challenge, Dairy / Lactose Free, RPAH Elimination Diet - Amines Allowed, RPAH Elimination Diet - Low Chemical / Failsafe, RPAH Elimination Diet - Moderate Chemical, RPAH Elimination Diet – Very High Chemical, Salicylate Challenge |
| Meal type | Lunch, Main Dish, Savoury Snack |
| Misc | Child Friendly, Pre-preparable, Serve Cold, Serve Hot |
Easy savoury calzones
Ingredients
1 Batch plain or pumpkin pizza dough (Refer to recipe)
plain white flour (for rolling)
Filling suggestions:
Preservative-free ham (Amines)
Grated cheese (Amines)
No-Tomato Chicken Mince (Refer to recipe)
Left over roast chicken
Left over roast vegetables
Leek sauce (Refer to recipe)
Cooked chicken
No-tomato sauce (Refer to recipe)
Mashed / pureed vegetables (any that are tolerated)
Mince and Gravy (Refer to recipe)
Sliced cooked potatoes
Directions
1.
Preheat the oven to 220°C and lightly flour two baking trays.
2.

Roll the first ball of pizza dough on a lightly floured surface into a circle approximately 30cm in diameter.

3.

Place the fillings over the dough, leaving about 1cm around the outside.

4.

Carefully lift the top edge of the dough towards you and fold the dough in half so that you have a semi-circle. Crimp the edges together to seal the calzone.

5.

Carefully lift the calzone onto the baking tray.

6.

Repeat for all the remaining balls of dough then place the baking trays low in the oven and cook for 10 to 15 minutes, until the dough is golden on top and the filling heated through.

7.

Serve immediately. Calzones can be served individually, or cut up and shared.
Note
Low Chemical / Failsafe, Moderate Salicylates, Amines
The pumpkin and sweet potato pizza dough contains moderate salicylates.  The plain pizza dough is low chemical / failsafe.
One calzone will serve 1 to 2 people.  Quantities of the filling can be varied, depending on how big you want to make them.  I use one batch of no-tomato chicken mince for two calzones.  1 batch of basic white sauce or leek sauce mixed with 3 cups of cooked chicken will fill two calzones.
The fillings I've included are just suggestions.  Anything that you can put in a pie or on a pizza can be used in a calzone; these are a great way to use up leftovers.  Refer to the following recipes used here:
Sweet Potato Spelt and Rye Pizza Dough