Toad in the Hole

Print recipe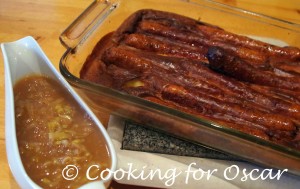 Great Winter comfort food - Toad in the Hole served with leek gravy and mashed potatoes.
Ingredients
100g plain white flour
1 egg
300ml milk
8 Failsafe Sausages (Refer to recipe)
1 tablespoon sunflower oil
1/2 teaspoon salt
To serve:
Leek gravy (Refer to recipe)
Mashed potato
Directions
1.
Preheat the oven to 220°C.
To make the batter:
2.
Sift the flour into a large mixing bowl with the salt.
3.
Make a well in the centre and crack in the egg a little bit of milk. Stir with a wooden spoon, slowly mix the flour into the egg and milk until you have a smooth batter.
4.
Gradually add the remaining milk, whisking until all the milk is combined and there are no lumps. Set the batter aside.
Cook the sausages:
5.
Separate the sausages and place them into a 20 x 30cm roasting tray. Add the oil and toss it through the sausages so that the base of the tray is coated. Bake the sausages for 15 minutes.
Cook the batter:
6.
After 15 minutes remove the tray from the oven and quickly pour the batter over the sausages. It will sizzle and bubble.
7.

Place the tray back in the oven and cook for 35 - 40 minutes until the batter is cooked through, has risen and is crisp. To test, stick a knife in the middle of the batter it should not be sticky or runny. Don't open the oven for the first 20 minutes.

To serve:
8.
Cut the toad in the Hole into large wedges and serve with the leek gravy spooned over and mashed potato. Great comfort food!
Note
Low Chemical / Failsafe
Refer here for recipes for the recipes for Leek Gravy and Failsafe sausages.