I know the warm weather seems to have disappeared from Melbourne, but I thought I would post this for my readers on the other side of the world, who are coming into spring.  And maybe we'll have another burst of Autumn sunshine yet!  This is a good salad for taking on picnics.
Both the salad and the mayonnaise recipe are based on ones in the Failsafe Cookbook (Potato Salad and Mighty Mayo).  I have tried several times to make egg mayonnaise and always end up with an oily mess.  The Mighty Mayo is a cheats method that tastes just as good, although I found the original recipe too sweet and have halved the sugar.
Potato and Bean Salad

Print recipe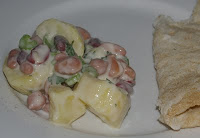 | | |
| --- | --- |
| Serves | 4-6 |
| Prep time | 40 minutes |
| Allergy / Intolerance | Amines, Artificial Addititives, Artificial Colours, Dairy, Glutamates, Preservatives, Salicylates, Wheat |
| Suitable for | Dairy / Lactose Free, Gluten Free, RPAH Elimination Diet - Low Chemical / Failsafe |
| Meal type | Salad |
| Misc | Child Friendly, Pre-preparable, Serve Cold |
| Occasion | Barbecue, Picnic |
Potato and bean salad.
Ingredients
1/2 cup mayonnaise (Refer to recipe)
1/2 stalk celery (finely chopped)
Salt (to taste)
1 tablespoon spring onion (finely chopped)
1 tablespoon chives or parsley (finely chopped)
500g potatoes (peeled )
2 hard-boiled eggs (finely chopped)
1 can bean mix (400g, drained and rinsed)
Directions
| | |
| --- | --- |
| 1. | Cook the potatoes until tender, then drain and allow to cool slightly. |
| 2. | Cut the potatoes into cubes and while still warm, mix into the mayonnaise. |
| 3. | When cool add the remaining ingredients and chill well before serving. |
Note
Low Chemical / Failsafe
Refer here for dairy-free mayonnaise or egg-free mayonnaise recipes.
Mayonnaise

Print recipe
A low chemical, easy to make mayonnaise
Ingredients
1/4 cup Cornflour (wheaten)
1 teaspoon Citric Acid (or more to taste)
1 teaspoon Salt
1/4 cup Sugar (or more to taste)
1 1/4 cup Water
2 Eggs
175ml Sunflower Oil
Directions
| | |
| --- | --- |
| 1. | Combine the cornflour, citric acid, salt, sugar and water in a small saucepan and cook over medium heat. |
| 2. | When thickened (it looks like glue), pour into a blender and while whizzing add the eggs and drizzle in the oil. |
| 3. | Keeps in an airtight container for about 2 weeks. |
Note
Low Chemical / Failsafe