It's been a while since I've blogged about using roast chicken left overs, and since roast chicken and vegies is a weekly occurrence at our place I have come up with lots of ways to use them.  I recently made this with a new pastry that I found at the Maxi supermarket –
Borg's organic puff pastry
– which has a really lovely flavour to it.  I always keep little balls of left over pastry in the freezer, and when I have enough little balls I make these simple fruit tarts for dessert.  The tart recipe is one of the first recipes I modified for Oscar on the elimination diet, from the Coles Baby magazine.
Chicken Pot Pie

Print recipe
A great use for left overs - chicken pot pie.
Ingredients
1 tablespoon sunflower oil
1 Medium leek (finely chopped)
2 teaspoons minced garlic
2 Stalks celery (finely chopped)
1 bok choy (stem and leaves finely chopped)
1 cup cooked vegetables (chopped)
1/2 cup frozen peas
1/2 cup home made gravy (refer to basics page)
3 cups cooked chicken (roughly chopped)
180ml light evaporated milk
Salt
1 sheet butter puff pastry (thawed)
Directions
1.
Preheat the oven to 190 C and lightly grease a 2-litre casserole dish.
2.
Heat the oil in a large frying pan over medium heat and add the leek, celery and garlic. Fry for 2 to 3 minutes until soft.
3.
Add the bok choy and fry for another 2 minutes.
4.
Add the cooked vegetables, peas, gravy, chicken and evaporated milk and cook until heated through. Season with salt.
5.

Pour into the prepared casserole dish and top with the pastry.

6.

Place a few vent holes in the pastry and cook for approximately 30 minutes, until the pastry is golden brown. Serve with vegetables.
Note
Amines, Moderate Salicylates, Moderate Glutamates
Refer here for Gravy Recipe.
Simple Fruit Tarts

Print recipe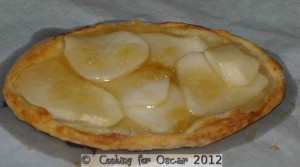 | | |
| --- | --- |
| Serves | 4 |
| Prep time | 10 minutes |
| Cook time | 20 minutes |
| Total time | 30 minutes |
| Allergy / Intolerance | Amines, Artificial Addititives, Artificial Colours, Glutamates, Preservatives, Salicylates |
| Suitable for | RPAH Elimination Diet - Low Chemical / Failsafe, RPAH Elimination Diet - Moderate Chemical, Salicylate Challenge |
| Meal type | Dessert, Sweet Things |
| Misc | Child Friendly, Pre-preparable, Serve Cold, Serve Hot |
Quick and easy fruit tarts using left over pastry.
Ingredients
1 sheet butter puff pastry (thawed)
3 pears (peeled and thinly sliced)
1 tablespoon caster sugar
1 teaspoon pear jam (refer to Basics Page)
1 teaspoon water
1 pinch citric acid
Directions
| | |
| --- | --- |
| 1. | Preheat the oven to 200°C and line a baking tray with baking paper. |
| 2. | Cut the puff pastry into four squares. Moisten the edges with a little bit of water and roll over to create a ridge around the edge of the pastry. If using left over pastry, roll the pastry scraps out to a similar size. |
| 3. | Place the fruit inside the ridge and sprinkle with a little bit of sugar. |
| 4. | Bake in the oven for 20 minutes or until golden. |
| 5. | Just before the tarts are cooked put the jam, water and citric acid in a small saucepan over low heat stirring until it is runny. Drizzle the cooked tarts with the pear glaze as soon as they are taken out of the oven. |
| 6. | Serve with vanilla ice cream, custard or yoghurt. |
Note
Low Chemical / Failsafe
Refer to the Basics page for Pear Jam.
Variation: substitute the pear for thinly sliced Red or Golden Delicious apples (moderate salicylates) or peaches or apricots (high salicylates) if doing a salicylate challenge.