I've never tried spring rolls with Oscar because, until recently, it's been painful to get him to eat anything with vegetables in it.  This made the fresh Vietnamese style ones out, and I'm not a big fan of deep frying, so I haven't made the cooked ones either.   With the vegetable situation improving I decided try some cooked ones, but baked, not fried.  I couldn't find any preservative-free spring roll pastry, so I used rice paper, which didn't seem to make any difference.  We had them with Chicken Vermicelli Noodles, which I modified from a recipe on Rasamalaysia.  Oscar loved it all, especially mixed with his No-Tomato Sauce.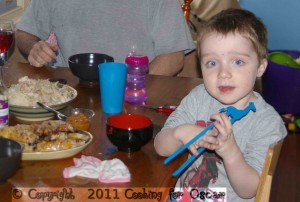 Baked Rice Paper Spring Rolls

Print recipe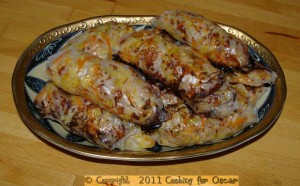 | | |
| --- | --- |
| Serves | 3-4 |
| Prep time | 1 hour |
| Cook time | 25 minutes |
| Total time | 1 hours, 25 minutes |
| Allergy / Intolerance | Amines, Artificial Addititives, Artificial Colours, Glutamates, Preservatives, Salicylates |
| Suitable for | RPAH Elimination Diet - Moderate Chemical, Salicylate Challenge |
| Meal type | Appetizer, Lunch, Main Dish, Savoury Snack, Side Dish |
| Misc | Child Friendly, Pre-preparable, Serve Hot |
| Region | Asian |
Baked rice paper spring rolls.
Ingredients
375g chicken fillets (minced)
2 spring onions (finely sliced)
1 Medium carrot (peeled and grated)
125g cabbage (finely shredded)
1/4 cup Pear Sauce (refer to basics page)
1/2 teaspoon salt
1 clove garlic (finely sliced)
1/2 stick celery (finely sliced)
2 tablespoons rice Bran Oil
Canola oil spray (for greasing)
14 rice paper spring roll wrappers (16cm)
Water (for softening spring roll wrappers)
Extra Rice bran oil
For dipping: (Optional)
No-tomato sauce (refer to Basics page)
Pear Sauce (refer to Basics page)
Dipping sauce for Fresh Rice Paper Rolles (refer to recipe)
Directions
1.
Heat the rice bran oil in a wok or large frying pan over medium-high heat. Add the chicken and stir-fry until cooked through. Transfer to a plate lined with paper towel.
2.
Add the spring onions, garlic, carrot, celery and cabbage to the wok. stir-fry for about 2 minutes or until soft. Remove from the heat.
3.
Place the chicken and vegetables into a bowl and combine. Add in the pear sauce and salt. Stir until well combined. Set aside to cool completely. Drain any excess liquid.
4.
Preheat the oven to 200 C. Spray a baking tray with the canola oil.
5.

Place 1 spring roll wrapper into a bowl of water, then lay on a flat surface.

6.

Once softened, spoon the chicken mixture onto the centre of the wrapper.

7.

Fold over the top and bottom ends, then fold in the sides and roll up. Place on the baking tray.

8.

Repeat for all the wrappers, then brush the tops with the extra rice bran oil. Place in the oven and bake for 20 - 25 minutes, until golden.

9.

Serve immediately. As a dipping sauce you can use Pear Sauce (p. 9), No-Tomato Sauce (p.11) or the dipping sauce for Fresh Rice Paper Rolls.
Note
Moderate Salicylates, Low Glutamates, Low Amines
Refer here for pear sauce recipe and no-tomato sauce recipe.  The dipping sauce recipe can be found here.
Chicken Vermicelli

Print recipe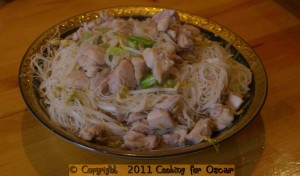 Quick and easy low chemical chicken and vermicelli noodles.
Ingredients
200g Rice vermicelli
3 Garlic cloves (chopped)
1 cup Mung bean sprouts (rinsed)
3 Spring onions (roughly chopped)
300g chicken fillets (cut into small pieces)
4 tablespoons rice bran oil
For the seasoning:
4 tablespoons Golden Syrup
4 tablespoons Water
1 tablespoon Brown sugar
1 teaspoon Citric Acid
1 teaspoon Salt
Directions
1.
Prepare the vermicelli noodles as per the directions on the packet. Drain and set aside.
2.

Mix all the ingredients together for the seasoning and set aside.

3.
Heat up a wok and add the rice bran oil. Add the garlic and stir-fry until it starts to brown.
4.
Add the chicken and stir fry until it is half cooked.
5.
Add the vermicelli and the seasoning, stir well to combine. Stir fry for another 2 to 3 minutes until the noodles turn soft and are no longer wet and the chicken is cooked.
6.
Add in the bean sprouts and spring onions. Stir-fry for another minute until they are cooked.
7.
Serve immediately.
Note
Low Chemical / Failsafe