We've finally got some warm weather again, so I thought I'd publish a few of the salad recipes that we've tried over the Summer months.  Hopefully, we'll have a bit more warm weather before winter sets in and you'll have time to try some of them.  The addition of pasta or noodles to salads has greatly improved Oscar's interest in them, so there is one of each here.  We have also been working on high salicylate re-introduction, so two of these recipes contain high salicylates and amines.  The Nectarine salad is adapted from one on Taste.com.
Bean and Pear Pasta Salad with Croutons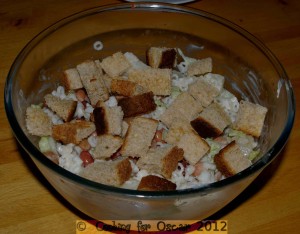 Low salicylate pasta salad.
Ingredients
420g Tinned bean mix
1 cup Cooked pasta
2 tablespoons Egg-less Mayonnaise (refer to basics page)
1 cup lettuce (shredded)
4 Pear halves in syrup (drained and diced)
Salt (to taste)
2 Slices bread (cut into sqaures)
Canola oil spray
Directions
| | |
| --- | --- |
| 1. | Make the croutons by lightly spraying a frying pan with oil, then adding the diced bread. Fry until lightly browned. |
| 2. | Toss together the lettuce, pears, pasta and beans in a large bowl. |
| 3. | Mix through the mayonnaise and add salt to taste. |
| 4. | Top with the croutons before serving. |
Note
Low Chemical/ Failsafe
Refer to the Basics page for mayonnaise recipes.
Sweet Potato, Feta and Noodle Salad
Quick sweet potato, feta and noodle salad.
Ingredients
400g sweet potato (peeled and diced)
3 Spring onions (finely chopped)
Pear salad dressing (Refer to Basics Page)
1 Block Ayam noodles
Boiling water
1/2 Block Feta
Directions
| | |
| --- | --- |
| 1. | Cook the sweet potato (boil, steam or microwave) and place into a large bowl. |
| 2. | Soak the noodles in boiling water until soft, then drain. |
| 3. | Add the noodles and spring onions to the sweet potato (while still warm), then crumble in the feta. |
| 4. | Drizzle with salad dressing, then lightly combine. |
| 5. | Store in the fridge until ready to serve. |
Note
High Amines, Moderate Salicylates, Low Glutamates
Refer to Basics Page for Pear Salad Dressing recipe.
Nectarine, Cucumber, Feta and Almond Salad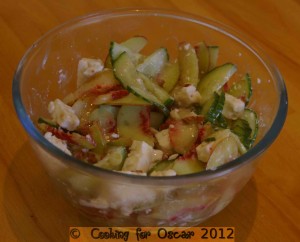 Sweet and savoury nectarine salad.
Ingredients
30ml Malt Vinegar
2 1/2 tablespoons Caster sugar
2 Spring onions (finely sliced)
2 Nectarines (halved, stoned and thinly sliced)
1 Small Lebanese cucumber (halved lengthways and sliced)
1/4 cup Feta (diced)
1/4 cup Almonds (coarsely chopped)
2 tablespoons Sunflower oil
Directions
| | |
| --- | --- |
| 1. | Place the vinegar and sugar in a small suacepan over low heat. Cook, stirring until the sugar dissolves. Set aside to cool completely. |
| 2. | Combine the nectarine, cucumber, almonds, feta and spring onions in a bowl. |
| 3. | Gradually add the oil to the vinegar mixture and whisk until combined. Pour the dressing over the nectarine mixture and toss gently until just combined. |
| 4. | Serve immediately. |
Note
High Amines, High Salicylates, Low Glutamates