Ever since we told Oscar that eating carrots would help him see in the dark, he has been extraordinarily good at eating his vegetables.  Not just orange ones (I haven't corrected his assumption that all orange vegetables are carrots) , but green ones as well.  To take advantage of this and maintain his interest, I've been developing recipes with orange foods – carrot, pumpkin and sweet potato – all moderate salicylates.  I've never made a stuffed chicken breast before, but after watching a few YouTube clips it turned out to be pretty easy and these pumpkin stuffed ones were delicious.  The muffins were modified from this Carrot Muffin recipe from the Australian Institute of Sport.
Carrot Vitabrit Muffins

Print recipe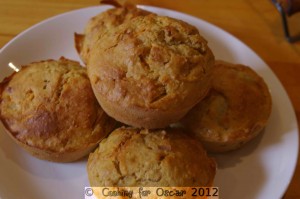 | | |
| --- | --- |
| Serves | 15 |
| Prep time | 20 minutes |
| Cook time | 25 minutes |
| Total time | 45 minutes |
| Allergy / Intolerance | Amines, Artificial Addititives, Artificial Colours, Dairy, Glutamates, Preservatives, Salicylates |
| Suitable for | Dairy / Lactose Free, RPAH Elimination Diet - Moderate Chemical, Salicylate Challenge |
| Meal type | Sweet Things |
| Misc | Child Friendly, Pre-preparable, Serve Cold, Serve Hot |
Healthy, easy carrot and Vitabrit muffins.
Ingredients
2 Vitabrits (crushed)
3/4 cups white self-raising flour
1 1/4 cup wholemeal self raising flour
3/4 cups brown sugar
1 pear (peeled, cored and finely chopped)
2 Medium carrots (grated)
1 tablespoon golden syrup
2 tablespoons sunflower oil
1 1/4 cup oat milk
1 egg (lightly beaten)
1 teaspoon vanilla essence
Directions
1.
Preheat the oven to 180 C and prepare the muffin pans.
2.
Sift the flours and sugar into a bowl. Adding the husks back in.
3.
Stir in the Vitabrits, pear and grated carrot. Make a well in the middle.
4.
In a separate bowl, whisk together the golden syrup, oil, milk, egg and vanilla, then add to the flour mixture.
5.
Mix gently until just combined, then spoon into the muffin pans.
6.
Bake for 20 to 25 minutes, or until the muffins are well risen and spring back when touched.
7.

Leave in the pan for a few minutes, then turn out onto a wire rack to cool, or eat while still warm.

8.
Store in an airtight container.
Note
Low Amines, Low Glutamates, Moderate Salicylates, Dairy-free
Substitute the oat milk for any other type of milk.
Pumpkin Stuffed Baked Chicken

Print recipe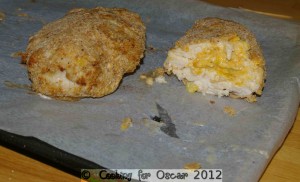 Pumpkin and cream cheese stuffed chicken breasts.
Ingredients
4 Skinless chicken breast fillets
200g Pumkin (peeled and diced)
2 Spring onions (finely chopped)
2 teaspoons Minced garlic
Sunflower Oil
2 tablespoons Light cream cheese
1 Egg
1/2 cup Plain flour
1 cup Home made bread crumbs (Refer to Basics Page)
Salt
Directions
1.
Cook the pumpkin (steam, microwave, boil), and set aside.
2.
Fry the spring onions and garlic in a bit of oil until soft. Add the pumpkin and cook for another 2 to 3 minutes. Transfer to a bowl and roughly mash with a fork.
3.

Stir in the cream cheese and season with salt. Set aside to cool.

4.

Cut a pouch in each chicken fillet and stuff with the pumpkin. Use a tooth pick to close the opening.

5.

Place the flour and breadcrumbs on two large plates. Lightly beat the egg in a large bowl.

6.

Roll the chicken breast in flour, coat in the egg, then roll in the breadcrumbs. Place on a lined baking tray.

7.

Cover in plastic wrap and let chill in the fridge for 30 minutes.

8.
Preheat the oven to 180 C.
9.

Bake in the oven for 30 minutes, turning over after 15.

10.
Serve with vegetables or salad.
Note
Moderate Salicylates, Low Amines, Low Glutamates
Variations:  substitute pumpkin for sweet potato.
Refer to the Basics page for Home Made Breadcrumbs.