This is my last post before Christmas and my last recipe until at least mid-January.  I'm going to finish of the year with some Finnish Christmas Stars (I didn't realise that pun until just now 🙂  ) that I made to take to our street party.  Finnish Christmas Stars (Joulutorttu) are very to easy to make, you can use any kind of pastry and any kind of filling.  Traditionally they are made with plum or prune jam, but that was out.   I could have just used pear or apple jam, but I wanted something a bit more festive, so I made up a pear filling with brown sugar, citric acid and maple syrup.  I also used a few saffron threads to get a deeper colour into the mix, but you can leave this out.  My pears were getting to that almost too ripe point (where they become tasteless) so I cooked them up a couple of days earlier, which was  great because the flavours had more time to develop.  I also used up four different lots of pastry that were in my freezer – 2 types of butter puff pastry, some Pampas shortcrust pastry (full of colours and additives – not for Oscar) and the sweet shortcrust pastry that I made at the pie course I went to.  The best Christmas Stars were made with my own shortcrust pastry, but the puff pastry was pretty good too.
There wasn't room in the recipe template to include all the photo steps for making the stars, so here are they are: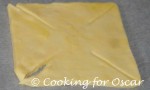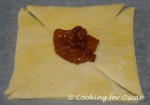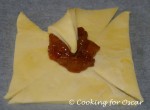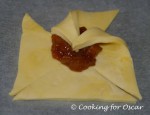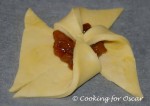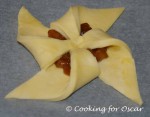 You can also make the star first and put the filling on top: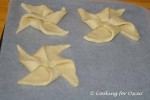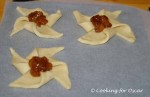 Sweet Shortcrust Pastry

Print recipe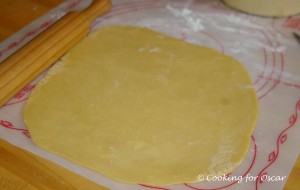 Home made sweet shortcrust pastry
Ingredients
25g pure icing sugar
75g chilled butter (cut into cubes)
150g plain white flour
pinch salt
2 egg yolks (lightly beaten)
Directions
| | |
| --- | --- |
| 1. | Sift the flour and salt together into a bowl and make a well. Sift the icing sugar into the well. |
| 2. | Add the butter and cut in the butter until it looks like fine bread crumbs. |
| 3. | Sprinkle the egg yolks over the surface of the flour mixture and and mix with a fork until it comes together. Add the egg a bit at a time until this happens. Don't make it too moist. |
| 4. | Turn the dough out onto a lightly floured board. Form the dough into a ball and knead until smooth, about 1 minute. Don't overwork it. |
| 5. | Flatten the dough into a disc and wrap in cling wrap. Chill in the fridge for at least 1 hour until firm. |
Note
Low Chemical / Failsafe
Tips:
To cut in the butter (step 2), use two dinner knives to cut through the butter and flour until the butter is in small pieces.  Place a wet tea towel under the bowl to hold it steady.  Do the last part with your fingers, lifting the flour/butter up and dropping it back until you have the fine bread crumb texture.
Step 2 can be done in a food processor using a plastic or steel blade.  Use the pulse setting and stop and check intermittently until the flour and butter is like fine bread crumbs.
Avoid letting too much warmth into the pastry - watch for the temperature in the room and the temperature of your hands.  Minimise handling with your hands.
This pastry can be frozen, wrapped in plastic wrap, for longer storage.
Joulutorttu: Finnish Christmas Stars

Print recipe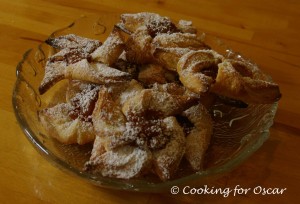 | | |
| --- | --- |
| Serves | 16 |
| Prep time | 55 minutes |
| Cook time | 1 hour, 5 minutes |
| Total time | 2 hours |
| Allergy / Intolerance | Amines, Artificial Addititives, Artificial Colours, Glutamates, Preservatives, Salicylates |
| Suitable for | RPAH Elimination Diet - Low Chemical / Failsafe |
| Meal type | Sweet Things |
| Misc | Child Friendly, Freezable, Pre-preparable, Serve Cold |
| Occasion | Christmas, Special Occasions |
Finnish Christmas Stars with Pear and Maple Syrup filling
Ingredients
Enough pastry to make 16 squares (refer to notes)
Pure icing sugar
For the filling:
3 Large very ripe pears (approximately 900 grams)
45g soft brown sugar
1 1/2 tablespoon lemon juice substitute (Refer to recipe)
2 teaspoons pure maple syrup
For the filling: (Optional)
Directions
For the filling:
1.
Soak the saffron threads in the lemon juice substitute.
2.
Peel, core and cut the pears into small cubes.
3.
Combine the pears, sugar, lemon juice substitute and saffron in a small heavy based saucepan and bring to the boil. Reduce the heat, cover and allow to simmer for 30 minutes, stirring occasionally.
4.
Uncover and simmer for another 15 minutes, stirring frequently, until thick.
5.
Stir in the maple syrup and simmer for another 5 minutes.
6.

Remove from the heat and set aside to cool completely.

To make the stars:
7.
Preheat the oven to 200°C and line baking trays with baking paper.
8.
Roll out the pastry to 4 - 5 mm thick and cut out squares 10 x 10cm, reusing the scraps until all the squares are cut.
9.

Place the squares on the lined baking trays and make a cut from each corner towards the centre, halfway into the square.

10.

There are two ways to make the stars - filling on top, or pastry on top.
To have the filling on top, fold every second corner towards the centre of the pastry square and press lightly to secure the four corners before putting a teaspoon of filling on top.
To have the pastry on top, place a teaspoon of filling in the centre of the pastry square, then fold every second corner towards the centre and press all four corners lightly together to secure.

11.
Bake for 15 minutes or until the pastry is golden brown.
12.

Allow to cool completely on a wire rack.

13.

Sprinkle with icing sugar just before serving.
Note
Low Chemical / Failsafe
These pastries are best made a few hours before serving, and sprinkled with icing sugar just before serving.
If you have time, make the filling a day or two in advance and store in the fridge.  This will allow the flavours to develop more.
Any type of pastry can be used and the squares can be any size.  I used 10 x 10 cm squares, but if you use pre-prepared pastry sheets you can just cut each sheet into quarters.   4 sheets of butter puff pastry or 3 batches or sweet shortcrust pastry will make 16 pastries.
Traditionally, the jam used is plum or prune, but you can use any type of jam that is tolerated instead of the pear filling.
The lemon juice substitute recipe can be found here.
For instructions on how to fold the stars, refer to the original post for this recipe.
As I said, this is my last recipe post for a while, but I will be around on Facebook and replying to comments, so please leave comments and ask questions.  If you've only just found my blog and/or are looking for Christmas ideas, check out my Christmas page.  To all my readers, I hope you all have a safe and happy Christmas and New Year, and partake of some wonderful food!
Merry Christmas and Best Wishes for 2013
Sandra