Joulutorttu: Finnish Christmas Stars

Print recipe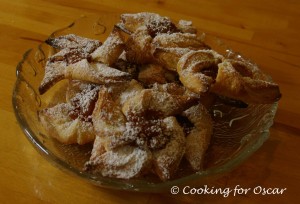 | | |
| --- | --- |
| Serves | 16 |
| Prep time | 55 minutes |
| Cook time | 1 hour, 5 minutes |
| Total time | 2 hours |
| Allergy / Intolerance | Amines, Artificial Addititives, Artificial Colours, Glutamates, Preservatives, Salicylates |
| Suitable for | RPAH Elimination Diet - Low Chemical / Failsafe |
| Meal type | Sweet Things |
| Misc | Child Friendly, Freezable, Pre-preparable, Serve Cold |
| Occasion | Christmas, Special Occasions |
Finnish Christmas Stars with Pear and Maple Syrup filling
Ingredients
Enough pastry to make 16 squares (refer to notes)
Pure icing sugar
For the filling:
3 Large very ripe pears (approximately 900 grams)
45g soft brown sugar
1 1/2 tablespoon lemon juice substitute (Refer to recipe)
2 teaspoons pure maple syrup
For the filling: (Optional)
Directions
For the filling:
1.
Soak the saffron threads in the lemon juice substitute.
2.
Peel, core and cut the pears into small cubes.
3.
Combine the pears, sugar, lemon juice substitute and saffron in a small heavy based saucepan and bring to the boil. Reduce the heat, cover and allow to simmer for 30 minutes, stirring occasionally.
4.
Uncover and simmer for another 15 minutes, stirring frequently, until thick.
5.
Stir in the maple syrup and simmer for another 5 minutes.
6.

Remove from the heat and set aside to cool completely.

To make the stars:
7.
Preheat the oven to 200°C and line baking trays with baking paper.
8.
Roll out the pastry to 4 - 5 mm thick and cut out squares 10 x 10cm, reusing the scraps until all the squares are cut.
9.

Place the squares on the lined baking trays and make a cut from each corner towards the centre, halfway into the square.

10.

There are two ways to make the stars - filling on top, or pastry on top.
To have the filling on top, fold every second corner towards the centre of the pastry square and press lightly to secure the four corners before putting a teaspoon of filling on top.
To have the pastry on top, place a teaspoon of filling in the centre of the pastry square, then fold every second corner towards the centre and press all four corners lightly together to secure.

11.
Bake for 15 minutes or until the pastry is golden brown.
12.

Allow to cool completely on a wire rack.

13.

Sprinkle with icing sugar just before serving.
Note
Low Chemical / Failsafe
These pastries are best made a few hours before serving, and sprinkled with icing sugar just before serving.
If you have time, make the filling a day or two in advance and store in the fridge.  This will allow the flavours to develop more.
Any type of pastry can be used and the squares can be any size.  I used 10 x 10 cm squares, but if you use pre-prepared pastry sheets you can just cut each sheet into quarters.   4 sheets of butter puff pastry or 3 batches or sweet shortcrust pastry will make 16 pastries.
Traditionally, the jam used is plum or prune, but you can use any type of jam that is tolerated instead of the pear filling.
The lemon juice substitute recipe can be found here.
For instructions on how to fold the stars, refer to the original post for this recipe.